Prevention Resources – Our Gender Revolution Campaign
The Our Gender Revolution Campaign from the Idaho Coalition Against Sexual and Domestic Violence centers gender equity and youth leadership in efforts to prevent sexual and domestic violence.
The campaign, that was led and created by Idaho youth leaders, features free resources for working with both middle and high school students.  These resources include a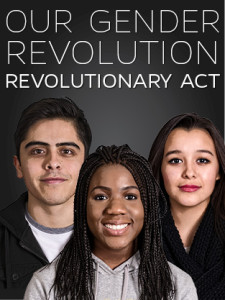 poster series, pocket brochures, a conversation guide and more.
According to the website, the campaign draws inspiration from social justice leaders whose work has focused on ending a culture of violence. All of the resources are great and the Revolutionary Acts poster series in particular is compelling. The poster series showcases powerful "acts" that link community youth with anti-violence activists including Grace Lee Boggs, Gloria Anzaldúa and Audre Lorde.
Our Gender Revolution seeks to create safe and equitable communities where power is shared and all people are valued. Take a look and let us know how you would use these resources in your prevention efforts!