¡Si, Se Puede! Pride and inspiration as Denim Day, California Uplifts the Experiences of Marginalized Communities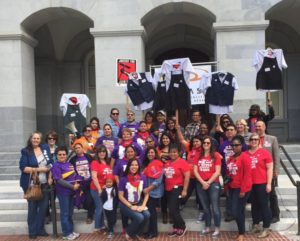 Inspiration for the Denim Day campaign is rooted in the experiences of sexual assault survivors. Today, as we were joined by over 20 legislators at our state's Capitol, I felt proud and inspired about the advances we are making in changing attitudes about sexual violence, about the partnerships we are forming, the allies we are gaining and about placing the experiences of those who are most marginalized at the center of our work.
In 1999, a Supreme Court judge overturned the rape conviction of a driving instructor convicted of raping his student. The judge's belief was that because the victim was wearing tight jeans, she must have helped her rapist remove her jeans, thereby implying consent. The women of the Italian Parliament were outraged and showed up on the courts steps wearing jeans in a demonstration of solidarity with the rape victim. These women centered the experience of the survivor, thus spurring national inspiration. In response to the case and the activism around it, Peace Over Violence developed the Denim Day campaign, which is now recognized throughout California, the nation and even Italy. Denim Day has become a symbol of protest against erroneous and destructive attitudes about sexual assault.
Today I was inspired, as I listened to nearly 20 state legislators speak about the bills they have authored to increase accountability, increase justice for survivors and prevent sexual assault. As I witnessed the growing understanding and commitment by our legislators about the impact that sexual violence has and the belief that it can be prevented, I became acutely aware of how far we've come in centering the experiences of survivors of sexual assault – including military, campus, and incarcerated survivors. While I recognize how much work there still is to do, I am inspired about ensuring that out work focuses on ALL survivors, and that the voices of those who are often invisible and most marginalized are uplifted.
There were so many moments today when I felt pride and inspiration. I felt proud when Georgina, a janitorial worker had the courage to speak out about her sexual victimization. She talked about being a single mother, about being sexually assaulted at work and about the fear she experiences daily when she goes to work. In so doing, she reminded us that we are not defined by our victimization but we are complex people with complex lives, and survivorship is not all defining but is one experience that we carry. I watched as Georgina gave the audience insight into the circumstance and experience of thousands of other janitorial workers. I watched Georgina exude hope and inspiration as she called out the word often used in liberation movements "¡Basta!"
I felt proud of all the legislators, funders, partners and stakeholders that joined us today. I felt proud when a I saw legislators wearing jeans and an apron, the uniform that many janitorial workers wear, and when a handful of the members of the California Senate and Assembly, broke out in Spanish to speak directly to the janitorial workers, letting them know that they had been seen and that their voices are being heard. Among my greatest moment of pride was when the large crowd of Spanish and non-Spanish speakers closed out Denim Day California on the Capitol steps by joining and repeating the chant originally coined by Dolores Huerta in the Farmworkers Movement "¡Si, Se Puede!"
"