Calling all Coaches: Use your voice, use your platform!
This week, I attended the "A CALL TO COACHES" events in Northern Virginia. This free educational training sponsored by A CALL TO MEN supports coaches to use their platform and role as a mentor and leader in the lives of young men and boys to promote healthy and respectful manhood.  Troy Vincent, Executive Vice President of Football Operations at the NFL, started the event speaking directly to coaches about their role and opportunity to build young men of character and ended with the challenge "I'm using my voice and my platform, use yours."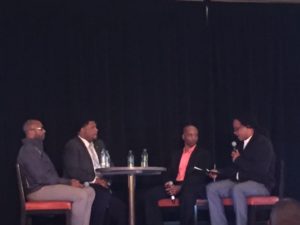 Additional community leaders from the DC metro area joined in a panel discussion to response to a key question "What does healthy, respectful manhood mean to you?" The group shared specific examples of how coaches and leaders in the athletics systems can teach important life lessons through sports.  A CALL TO MEN's Tony Porter pointed out that a coach always has a captive audience after a game, when the players are all on one knee looking up at the coach, and stated "What are great time to talk about character, respect, and love."
Athletics is a powerful development space for millions of youth in the United States and has a very influential platform from which to contribute to a culture in which sexual violence no longer exists.  Let's continue the conversations that A CALL TO MEN is starting in athletics and encourage coaches around the country to respond to this opportunity. In the Fall 2016, more A CALL TO COACHES educational trainings will takes place in Atlanta, GA, Houston, TX, and Los Angeles, CA.