New White House Guidance on Responding to Sexual Assault in K-12 Schools
Today, the White House Task Force to Protect Students from Sexual Assault released a document titled, "Considerations for School District Sexual Misconduct Policies". The document provides guidance and encourages K-12 school districts to develop sexual misconduct policies with input from key stakeholders including rape crisis centers.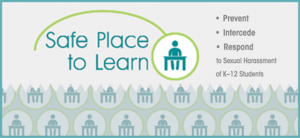 The release of the document also serves as a reminder to K-12 school districts of their ongoing obligations under Title IX. Highlighted in the document are elements for school districts to consider when crafting sexual misconduct policies and these elements include prevention, education and training. Additionally, the Department of Education released the "Safe Place to Learn" online resource package for administrative leadership and school staff that focuses specifically on prevention, intervention and response to peer-to-peer sexual harassment in schools.
These resources mark an important milestone by reminding K-12 schools of their responsibilities and obligations under Title IX, and by providing guidance for improving sexual assault response and prevention.