2017 National Sexual Assault Conference call for prevention workshop proposals
Today the Texas Association Against Sexual Assault (TAASA) has announced a call for workshop proposals as they prepare to host the annual National Sexual Assault Conference (NSAC) in 2017. The 2017 conference will be held June 7-9 in Dallas, Texas.
The theme for the conference is "From Courageous Conversations to Critical Action" and workshop propos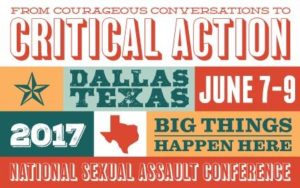 als that are innovative, interactive and that center traditionally underserved communities are encouraged.
Here is the description of the Prevention category:
Presentation or workshop submissions to the Prevention category should describe efforts to strengthen and engage states and communities in the prevention of sexual assault, with an emphasis on primary prevention. Workshop proposals should address the needs of state grantees from the Rape Prevention and Education program of the Centers for Disease Control and Prevention, their partners and/or the programs they support. Proposals should draw on the best available research and/or prevention practices and include information about the impact of featured efforts.
NSAC is a wonderful opportunity to share your experiences, insights and research on prevention with other prevention practitioners. Proposals must be submitted by 8PM (CST) on Friday, November 11, 2016.
You can access the full announcement here: