Case Study from NSVRC looks at Culturally Relevant Evaluation
Evaluating culturally relevant prevention efforts can be challenging without also extending cultural relevance to the evaluation methods themselves. The adaptation of mainstream program evaluation measures to understand the effectiveness of a culturally specific prevention program is detailed in a new case study report from the National Sexual Violence Resource Center (NSVRC) titled "Culturally Relevant Evaluation of Prevention Efforts."
This case study explores the evaluation process of a violence prevention curriculum calle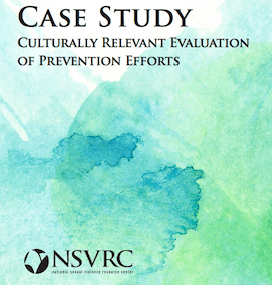 d "Walking in Balance With All Our Relations: A Violence Prevention Curriculum for Indigenous People" developed by Visioning B.E.A.R. (Balance, Equality, and Respect) Circle Intertribal Coalition (VBCIC). The report is comprised of two parts with part one providing an overview of the curriculum and part two specifically addressing evaluation. The report includes lessons learned and valuable recommendations for creating culturally relevant program evaluation methods.
You can download and read the case study in its entirety here.
In March, PreventConnect produced a web conference with the contributors of this case study. You can access a recording of the web conference here.