Policy Brief on Campus Sexual Assault addresses Comprehensive Prevention Programs
The Center on Gender Equity and Health at the University of California, San Diego recently released a policy brief for legislators and advocates, titled 'Campus Sexual Assault in the U.S.: What Research Tells Us". This important brief highlights the existing studies conducted on the prevalence of sexual assault on campus, the use of formal services by survivors and effective campus sexual assault prevention programming.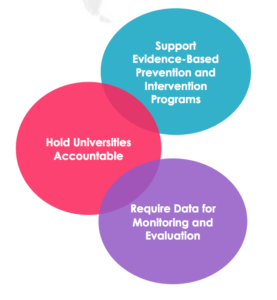 The brief underlines the need for sexual violence prevention programming on campuses, which are comprehensive and address equity issues, and calls for more evidence on effective prevention strategies. For more information on creating comprehensive prevention programs, you can look at our e-learning module.