#WhyICare: Building an Inclusive and Intersectional Social Justice Movement to End Domestic Violence
On October 18, 2016, PreventConnect participated in a Twitter Chat hosted by the National Resource Center on Domestic Violence (NRCDV). In this #WhyICare Twitter chat, activists and leaders representing leading social justice organizations and coalitions came together to discuss what this movement signifies to us and why we all care about ending domestic violence. Our common goal is to end and prevent domestic violence. Creating comprehensive, accessible, inclusive, trauma-informed, survivor-fo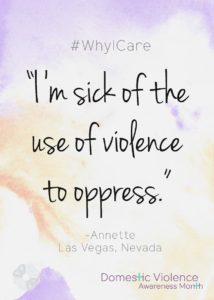 cused prevention programs is only possible by addressing the nature of intersectionality of domestic violence to sexual assault, child abuse and other forms of violence. This social justice movement to end domestic violence and other related forms of violence will be successful if we recognize the shared risk and protective factors and identify who's left out in this movement. Many chat participants agreed that we need more awareness and social change to build this movement and make it stronger.
Recognizing what this social justice movement commemorating Domestic Violence Awareness Month means to each of us is a critical piece in identifying ways to prevent domestic violence and other intersectional forms of violence. Although this social movement may be shaped by our unique backgrounds and experiences, the #WhyICare hashtag suggests we all care about and work together towards this common goal.
If you missed this twitter chat or for further details, click here. Also, be sure to check out the report Reciprocal Advancement to learn more about how domestic violence and sexual assault are linked yet distinct.