NSVRC releases new interactive & engaging e-learning tool on primary prevention
On November 3, 2016, National Sexual Violence Resource Center (NSVRC) released a new and interactive e-learning tool, Primary Prevention Primer to help people learn about primary prevention approaches to sexual violence. The purpose of this e-learning tool is to introduce the field of primary prevention by exploring its two critical elements — the Social Ecological Model and the Moving Upstream story. Additionally, the primer also highlights the differences between Primary Prevention and Risk Reduction, another important framework to learn for prevention programming.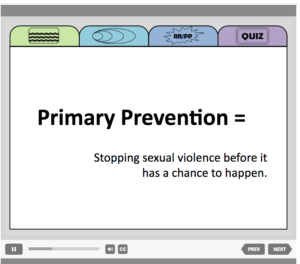 I completed this fast-paced primer in approximately 15 minutes. Due to the user-friendly and interactive interface, current and experienced prevention practitioners looking for a refresher course, new staff and volunteers or complete beginners could use this e-learning tool. There is a brief quiz at the end of the primer to test one's knowledge and understanding of primary prevention. This new tool effectively breaks down the essential fundamentals of primary prevention that is easy to comprehend, explain and understand. For further details, click here.