Guidance for Campuses Choosing Sexual and Relationship Violence Prevention Products
A white paper titled, "Choosing Prevention Products: Questions to Ask When Considering Sexual and Relationship Violence and Stalking Prevention Products" was released by Prevention Innovations Research Center (PIRC) this week and provides college and university leaders with guidance on how to assess the many products currently being marketed to address sexual and dating violence on campus. One-time, pre-branded and "boxed" prevention programs and curricula can be tempting for campuses to purchase. However, shifting norms and changing culture on campus to prevent sexual and domestic violence requires comprehensive prevention efforts that are strategic, intentional and tailored to meet campus specific needs.
The white paper provides stakeholders and campus administrators with questions to ask vendors and consultants to help determine if the product will effectively meet the needs of their particular campus community. The questions focus on the following areas: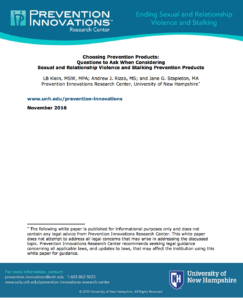 Effectiveness
Evaluation, Data Collection, and Data Protection
Relevance to Your Community
Investment
Another important highlight from the paper is a recommendation for campuses to engage local or state community partners in planning comprehensive prevention efforts on campus.
Earlier this year, PreventConnect Campus produced a web conference on choosing an online module and a toolkit to help campuses consider and potentially select an online module as one part of a comprehensive prevention plan. We also recently released an eLearning course titled "Online Module Selection through a Prevention Lens."
For more information on this white paper, click here to read the press release.