Register now for the 2017 NASPA Sexual Violence Prevention and Response Conference
In January, PreventConnect staff will head to Austin, Texas for the National Association of Student Affairs Professionals (NASPA) 2017 Sexual Violence Prevention and Response Conference.
Through our PreventConnect Campus project, we have spent the past year exploring prevention on college and university campuses and have heard from many campus-based prevention practitioners. We have heard how important it is for prevention professionals to connect to one another and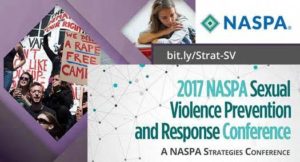 conferences such as this one can be great for networking, sharing resources and learning about promising prevention efforts and strategies. We look forward to attending this conference to learn more about what campuses across the nation are doing to prevent sexual violence and to meet the leaders who are working to create safer, healthier campus communities. If you are interested in attending this conference, early-bird registration ends November 21st.
Here is more information on the conference from NASPA:
The intense national focus on campus sexual violence prevention and response by the media, student activists and both state and federal legislators continues to impact the lives of students and those working with college students. The Sexual Violence Prevention and Response Conference is the preeminent national gathering for victim advocates, prevention professionals, and institution decision makers to convene and learn about cutting-edge research and promising practices on all facets of campus interpersonal violence. This year's conference offers an array of innovative sessions focused on prevention and response from both the campus and community provider perspective. New this year – the Office on Violence Against Women has approved the 2017 NASPA Sexual Violence Prevention and Response conference for OVW grantees.  Grantees are required to contact their OVW program specialist to get approval specific to their award and to ensure that a Grant Adjustment Notice (GAN) is issued.  The reference number for this conference is OVW-2017-MU-005.  Learn more about the conference and register by November 21st for the best rates.