Engaging New Voices: Theme for 2017 Sexual Assault Awareness Month
The National Sexual Violence Resource Center (NSVRC) has announced Engaging New Voices as the theme for Sexual Assault Awareness Month (SAAM) in 2017.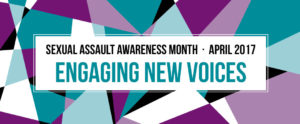 Preventing sexual violence, and related forms of violence, requires addressing root causes and shifting social norms. It also requires that diverse voices are included in our prevention efforts. The 2017 SAAM campaign will focus on reaching and including new voices, specifically calling on faith leaders, parents, coaches, and members of Greek Life to use their influence to promote healthy, equitable, and respectful relationships and communities.
In January NSVRC will release the SAAM Action Kit that will include tools to engage these audiences, as well as tools to address an online culture that tolerates sexual violence and tools to support survivors.
Preventing sexual violence, or any form of violence, cannot be accomplished in one month, but SAAM is a great opportunity to highlight ongoing prevention efforts and engage new people in the movement to end sexual violence. With new voices, comes new opportunities for action year-round.