'The Many Colors of Crime and Justice' experience at the American Society of Criminology (ASC) Conference in New Orleans
I came back from attending the Annual Meeting of the American Society of Criminology (ASC) at New Orleans, Louisiana. The four-day annual conference took place from November 16-19, 2016. In the past eight years, I was excited to see a larger and a more diverse group of attendees ranging from academics, graduate and undergraduate students to researchers, and advocates/ activists.
With the theme 'The Many Colors of Crime and Justice', it was empowering to witness an increase in panels and presentations addressing global and cross-cultural criminology with a focus on evidence-based practice, current social justice movements and community organizing. The conference also included panels discussing sexual violence on campuses with a specific focus on interventions and responses, policies and program implementations. For instance, there was a panel of scholars from the University of Kentucky and West Virginia University that spoke about the Multi College Bystander Efficacy Evaluation (McBEE) specifically underlining the Green Dot program.
Another session highlighted the critical role of centering black women's lives and the urgent need to focus on intersectionality among social justice movements to prevent multiple forms of violence. The conference also included thematic panels and roundtable discussions on other social justice movements such as the School-to-Prison pipeline.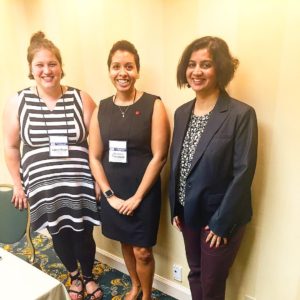 On Thursday, I participated in a roundtable discussion with my colleagues, Laurel Mazar and Joanna Thompson, who are doctoral candidates in the Department of Criminology, Law, and Justice at the University of Illinois at Chicago. In this roundtable, we spoke about the role and impact of graduate student involvement in organizing social justice events for the graduate department and campus. We also discussed balancing priorities and self-care. As part of the PreventConnect team, I highlighted the significance of student activists on campus especially in the movement to end sexual and domestic violence. On Saturday, I presented components of my doctoral dissertation on representation of violence against women in popular culture, with an emphasis on Bollywood cinema in India. My thematic panel also included scholars talking about their work on (a) Violence against women engaged in sex work in Southern India; (b) Prevention and punishment of sexual violence exploitation and abuse by UN peacekeepers and (c) Sexual Violence on Canadian University Campuses.
Building a movement to end sexual violence will only be possible and successful if we collaborate, unite and contribute our unique experiences and insights towards one common cause. In these very challenging times accompanied by volatile and hostile environments towards marginalized groups, I call on other criminal justice scholars, students, associations and other academics and practitioners to join this movement to end oppression and other forms of violence and commit to being socially responsible and supportive towards each other.