Obama Administration Lasting Legacy: New Campus Sexual Violence Resources Released
It has been three years since President Obama and Vice President Biden created the White House Task Force to Protect Students from Sexual Assault. Over the course of the last three years, this Administration has provided important leadership on addressing sexual assault on college and university campuses. Vice Presi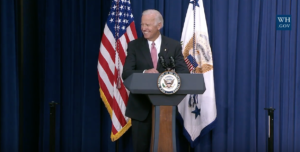 dent Biden, in particular, has helped elevate prevention, including primary prevention, as part of a comprehensive approach to addressing sexual violence on campus. Survivors and activists took to Twitter this week using #ThankYouJoe to express gratitude to Vice President Biden for his commitment to ending sexual violence.
Yesterday, January 5, 2017, the White House hosted its final event focused on stopping sexual violence on campus to celebrate the work that has been accomplished and to discuss the future of the work at the It's On Us Summit. The White House also released The Second Report of the White House Task Force to Protect Students from Sexual Assault. This final report expands on the Not Alone report, released in 2014, and pulls together new resources and recommendations, lessons learned, and outlines the efforts made by the Obama Administration to address sexual violence on campus. The report also highlights efforts campuses across the country are engaged in to prevent and respond to sexual violence on campus.
As part of their final legacy in addressing campus sexual violence, the Obama Administration also released a planning guide titled,  Preventing and Addressing Campus Sexual Misconduct: A Guide for University and College Presidents, Chancellors, and Senior Administrators. This guide was specifically developed for senior campus administrators and calls on them to commit to promoting safe campuses through comprehensive responses to sexual violence.
The guide is comprised of six elements that campuses should consider when developing a comprehensive plan to address sexual misconduct. These elements are:
Coordinated Campus and Community Response
Prevention and Education
Policy Development and Implementation
Reporting Options, Advocacy, and Support Services
Climate Surveys, Performance Measurement, and Evaluation
Transparency
The guide offers a vital foundation for developing or refining a comprehensive approach to addressing and preventing sexual violence on campus, and includes the important point that all campuses are different and have unique needs.
These contributions from the White House come at an important time when our work to prevent sexual violence on campus will rely on coordinated efforts between community and campus activists, advocates, prevention practitioners, researchers, leaders and administrators.