We Choose All of Us
"We encourage you to envision a world where everyone is valued, everyone is safe, everyone can thrive. We choose all of us." — We Choose All of Us Campaign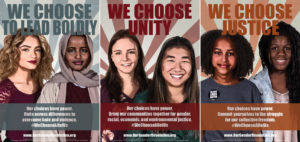 Last year, we blogged about Our Gender Revolution, an initiative from the Idaho Coalition Against Sexual and Domestic Violence that centers youth leadership and gender equity in efforts to prevent sexual and domestic violence. This year, Our Gender Revolution has launched the We Choose All of Us campaign and it may be just what we all need right now.
We Choose All of Us offers a collection of campaign materials — for free — that elevate the importance of unity, connection, and inclusion for ALL members of our communities. The campaign connects gender violence to systems of oppression and underlines the importance of our intersecting identities. The poster series features images of middle and high school students and includes messages promoting the following themes:
We Choose to Lead Boldly
We Choose Unity
We Choose Justice
We Choose Liberation
We Choose Humanity
We Choose Connection
We Choose Wholeness
We Choose Community
We Choose Belonging
We Choose Respect
The We Choose All of Us campaign illuminates what it means to bring communities together to create change that is beneficial for everyone, not just some of us.