Innovations in Evaluation
Evaluation is an essential component of sexual and domestic violence prevention. Beyond the fact that evaluation is often required by funders, evaluating prevention programs is just smart. It can also be really challenging.
A new report titled, Innovations in Evaluation: A Report on Evaluation in the Field of Sexual Violence Prevention, from the National Sexual Violence Resource Center (NSVRC) focuses on building evaluation capacity. The report highlights six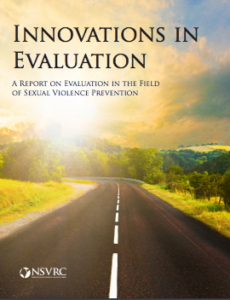 programs — three state level programs and three local programs — and the diverse approaches they have taken to build capacity for evaluation and evaluate their sexual violence prevention efforts. These examples reveal that there are many ways to evaluate sexual violence prevention efforts depending on the needs and capacity of the program.
Another important component of this report is building capacity for evaluation through individual and organizational change.  As the author of the report, Stephanie Townsend writes, "…building evaluation capacity is about changing organizations, not merely training individuals." Individual factors such as attitude about evaluation, evaluation knowledge, and evaluation skills are all important and necessary elements for successful evaluation of programs, but organizational commitment to evaluation is the foundation that will support expanding capacity for evaluation. Components such as leadership, resources, time allocation, and efficient communication can all create a system that supports evaluation in organizations.
This report is an important resource for all organizations engaged in sexual violence prevention. The examples of evaluation initiatives from state and community programs featured in the report are valuable examples of the various ways that organizations can engage in evaluation. Building evaluation capacity takes time, commitment, and a willingness to change. Over time these efforts will strengthen the field as a whole, expand our understanding of prevention, and most importantly, benefit communities.