Preventing Sexual Violence: RPE Stories from the Field
Since 1994, the Centers for Disease Control and Prevention's (CDC) Rape Prevention and Education (RPE) program has provided funding for sexual violence prevention to state health departments in all 50 states, the District of Columbia, Puerto Rico, Guam, the U.S. Virgin Isla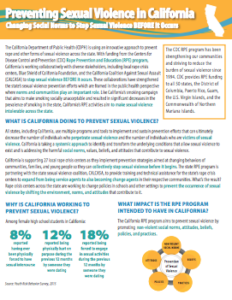 nds, and the Common Wealth of Northern Mariana Islands. Through RPE funding, states and territories work with a diverse group of stakeholders to stop sexual violence before it occurs by implementing a variety of prevention strategies and approaches.
A new collection of infographics from the Association of State and Territorial Health Officials (ASTHO) and Safe States Alliance tells the stories of 20 states' RPE programs. Stories from the Field highlights successes from state RPE prog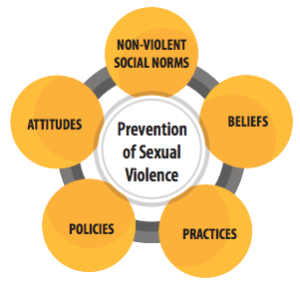 rams, demonstrates the importance of RPE funding, and presents examples of prevention in practice. Each story illustrates the ways the state RPE program aims to prevent sexual violence through the promotion of non-violent social norms, attitudes, beliefs, policies, and practices. Stories from the Field offers an important overview of the critical sexual violence prevention work happening across the country to decrease risk factors and increase protective factors to create safer communities in every state.