New Report Details Campus Activities to Prevent Sexual Violence
A new report fr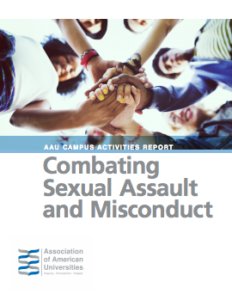 om the Association of American Universities (AAU) titled AAU Campus Activities Report: Combating Sexual Assault and Misconduct details how AAU universities are working to improve efforts to prevent sexual violence. The report is a follow up to a 2015 AAU campus climate survey report that found more than 1 in 5 female undergraduate students had experienced sexual violence.
The report is organized into six sections that show the breadth of approaches AAU campuses are taking to address sexual violence. These areas include:
Concrete steps highlighted in the report that universities are taking to bolster their prevention efforts include collaborating with both on and off campus partners, utilizing climate survey date to inform prevention efforts, implementing a range of prevention activities to saturate the campus, and looking to environmental and situational interventions to prevent sexual violence on campus.
Prevention takes time, planning, and resources and it is great to see how these universities are being thoughtful about incorporating  prevention efforts to make their communities safer.
Read the report in its entirety here.