Registration now open for the 2017 Campus Prevention Network Annual Summit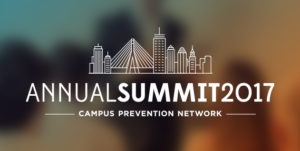 In June, PreventConnect will be traveling to Boston to attend the Campus Prevention Network Annual Summit, presented by EverFi.
This two-day gathering will bring together higher education professionals who are working on a range of student health and safety issues, including sexual violence. It is an opportunity for prevention practitioners, student affairs administrators, Title IX coordinators, and other campus professionals to network, share research, and explore strategies to enhance prevention efforts. We look forward to attending the Summit and meeting campus leaders who are working each day to create healthier campus communities.
To learn more about the summit and to register, please visit annual.cpnsummit.com/2017. Be sure to use promo code "preventconnect" for a special registration offer.