Funding Opportunity: Apply for a Raliance Impact Grant to End Sexual Violence
Do you have a visionary project to end sexual violence? You could be one of up to 20 grantees who Raliance will be awarding during its third round of grant funding.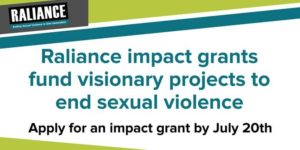 Raliance has announced its Round 3 of Impact Grants which funds visionary projects to end sexual violence. Raliance seeks to advance promising, replicable practices or policies that 1) improve the response to victims of sexual violence; 2) reduce the likelihood of perpetration of sexual violence; or 3) strengthen communities' and organizations' capacity to create safe environments. The application period for the third round of grants, opens today June 26, 2017 and will close July 20, 2017.