Hockey Sets New Expectations That Embrace Its Role Off the Rink
Today, the National Hockey League (NHL) and the NHL Players Association (NHL PA), joined by 15 other leaders in the international hockey community, announced a Declaration of Principles for the sport of hockey that defines hockey's role in building character, fostering positive values, and developing important life skills.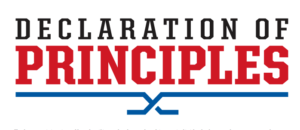 These principles raise the bar for hockey organizations in the United States and abroad that aim 'to improve lives and strengthen communities globally through hockey… (and) inspire impactful service beyond the rink".
Hockey's Declaration of Principles serves as an excellent example of how sport can be part of the solution in creating the conditions where sexual violence no longer exist. Sport organizations develop people and this commitment asserts that this is hockey's greatest value, to teach character and life skills that go far beyond the rink. Sport organizations are community conveners and these Principles engage the entire hockey community and name each person's role in living these values, from rink facilities to parents as well as coaches and athletes.
Raliance envisions a world where all sport organizations embrace their full potential and unique role in becoming part of the solution in sexual violence in one generation. We recognize the Declaration of Principles made by the hockey community sets a new standard that aims to create a hockey environment where everyone can thrive, be healthy, and reach their full potential – and thus, free of sexual violence. By setting Principles for the entire hockey pipeline, from youth and amateur leagues to professional and elite hockey clubs, hockey can shift and streamline the experience and expectation of everyone in the hockey community.
In order for the hockey community to live these Principles, it is necessary to equip sport organizations, coaches, administrators and athletes with relevant tools and support effective implementation.  This fall, Raliance will release a package of materials that support sport organizations in creating an environment where everyone can thrive and where sexual violence does not exist.  The materials will include a summary of Raliance's research and asset mapping of sexual violence prevention efforts in and through sport.  The package will include tools such as a "Theory of Change" describing the steps to prevent sexual violence and a "Strategy Map" that includes over 100 sexual violence prevention resources being used in sport. Raliance has already released a policy brief, Sports Culture as an Opportunity to Prevent Sexual Violence, outlining preliminary findings from this research.
Raliance is a national partnership led by National Sexual Violence Resource Center, the California Coalition Against Sexual Assault-PreventConnect and the National Alliance to End Sexual Violence.