Research, Teaching and Community Engagement: 2017 Linda Saltzman New Investigator Award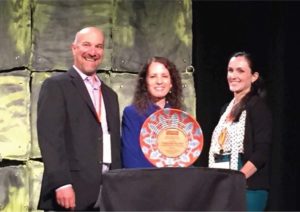 Raliance joined Futures Without Violence and the National Foundation for the Centers for Disease Control and Prevention to sponsor the 6th biennial Linda Saltzman New Investigator Award that recognizes an outstanding new investigator with 2-10 years of experience working in the field of domestic violence, sexual violence, or dating violence. This Award was presented today at the National Conference on Health and Domestic Violence held in San Francisco.
Along with Dr. Kathleen Basile from the Centers for Disease Control and Prevention, I was honored to be able to present this award to Dr. Cynthia Fraga Rizo, PhD, MSW, an assistant professor at the University of North Carolina, Chapel Hill School of Social Work. Chosen from a competitive group of outstanding candidates, Dr. Rizo carries the spirit, rigor, and dedication to the field that Dr. Linda Saltzman embodied.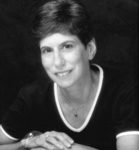 Dr. Linda Saltzman worked as the Senior Scientist at the Center for Disease Control and Prevention's (CDC's) Division of Violence Prevention where she initiated numerous studies highlighting the public surveillance and health outcomes of domestic and sexual violence. Through her groundbreaking work, she laid the foundation for uniform definitions of intimate partner violence, data collection and community partnerships among researchers and advocates.

This year Raliance joined Futures Without Violence and the CDC Foundation and a committee of experts in selecting an outstanding individual based on the quality of their research and its implications for the field; commitment to underserved communities; mentorship and collaboration with fellow researchers, health providers and advocates in the field.  Research candidates considered came from a variety of professions including, but not limited to doctors, nurses, social workers, psychologists, public health professionals and advocates.
I did not know personally know Linda Saltzman, but as a MPH student and as a public health professional committed to preventing sexual violence and domestic violence, Linda's work provided me a valuable example of using the science of public health as a tool for preventing violence.   Cynthia Fraga Rizo's work is another wonderful example of using research to make a difference in communities. I am impressed with her commitment to both research and improving practice.
Cynthia Fraga Rizo, PhD, MSW is an Assistant Professor at the UNC Chapel Hill School of Social Work. Dr. Rizo has dedicated her professional life to understanding the mechanisms of intimate partner violence, sexual assault, human trafficking and trauma with a focus on children and Latina and south Asian immigrants. As a dedicated practitioner of engaged scholarship, Cynthia has partnered with North Carolina Coalitions' Against Domestic Violence's (NCCADV) in training, services and research, and sharing her expertise on the effects of domestic violence on children and parenting. Her primary research focus consists of developing and evaluating interventions for particularly vulnerable intimate partner violence survivors, including Latinas, immigrants, and system-involved survivors. Dr. Rizo is currently working on a project to develop school-based sex trafficking content for students as well as protocols that schools can use to connect at risk youth and victims to needed community services. She has published more than twenty articles in refereed scholarly journals, teaches social work classes at UNC through the lenses of partner violence and trauma, and mentored and supervised the work of more than ten Master's and Doctoral-level student scholars at the UNC School of Social Work. Dr. Rizo has published more than twenty peer reviewed articles in journals including Aggression and Violent Behavior, Journal of Interpersonal Violence and Violence Against Women.
Through her research, teaching, and community engagement, Cynthia demonstrated to me the lessons I learn from Linda Saltzman, we must use the tools of science and public health to create communities without violence.
PreventConnect (a national from project of the California Coalition Against Sexual Assault), the National Sexual Violence Resource Center and National Alliance to End Sexual Violence are the partners in Raliance, a national partnership to end sexual violence in one generation.