Call for prevention workshop proposals at the 2018 National Sexual Assault Conference
The Call for Proposals is now open for the 2018 National Sexual Assault Conference (NSAC). The annual conference will be hosted by the California Coalition Against Sexual Assault and held August 29-31 in Anaheim, California. The theme of the 2018 conference is, "Bold Moves: Ending Sexual Violence in One Generation." As the theme implies, prevention will be a key focus area.
Here is a description of the prevention track:
Presentation or workshop submissions to the Prevention track should describe efforts to engage communities in the primary prevention of sexual assault. Submissions should feature evidence-based or evidence informed work that draws on the best available research or presents current research that can inform the sexual violence prevention practice field.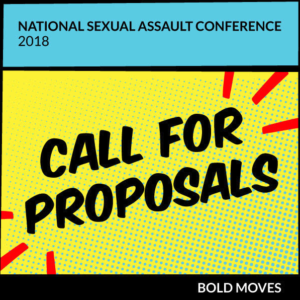 Priority will be given to submissions that:
• Contribute to understanding of comprehensive approaches with preventive interventions at multiple levels of the social ecological model
• Emphasize community and societal level strategies
• Inform the prevention program planning, implementation and evaluation efforts of state recipients from the Rape Prevention and Education program of the Centers for Disease Control and Prevention, their partners and/or the programs they support
• Feature emerging topics relevant to the sexual violence prevention research and/or practice field
• Include programs or topics related to underserved communities
Proposals must be submitted by January 16, 2018. Click here for information on how to submit a proposal.
For more information about NSAC 2018, please click here.