New Report: Themes and Summaries from the 2017 PreventConnect Web Conference Series
PreventConnect and Prevention Institute have released a new report exploring themes emerging from the 2017 PreventConnect web conference series, Toward Community Health and Justice. Over the course of 8 web conferences, three overall themes emerged:
Sexual and domestic violence prevention practitioners are using a health equity approach by addressing root factors of violence and working with communities to find solutions.
Practitioners are working to improve environments to prevent sexual and domestic violence.
Practitioners are working to shift community norms to make sexual and domestic violence community issues that demand community-wide action.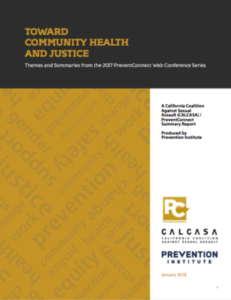 The report also summarizes the web conferences that focused on community-level prevention strategies, partnering with other sectors and movements, and how sexual and domestic violence relate to health equity and multiple forms of violence. It provides an opportunity to review key findings, themes, and resources from the rich conversations that developed between guests, facilitators, and audience participants. Learn more about the overarching web conference themes and innovative work that was featured in 2017 by downloading the report here.
Themes and summaries from 2016 web conferences can be found here.