Looking for Speakers for Upcoming PreventConnect Event
Movements like #MeToo and #TimesUp have driven national discussions about sexual violence in new and encouraging ways. As conversations ar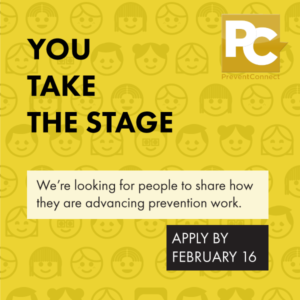 ound supporting survivors and holding people accountable continue, it is an important time to move prevention to the forefront. In March, 
PreventConnect
 will host a national online Prevention Town Hall for prevention practitioners to explore together how to advance prevention in this new landscape.
PreventConnect

 is 

looking

 for people to share how they are advancing prevention work during this new era at the Prevention Town Hall.
 Presenters will have 3-5 minutes to share their thoughts on questions, such as:
How has the national dialogue impacted your prevention work?
What new voices and sectors are you partnering with?
What is your vision for seizing this moment and moving people towards action?
If you are interested in presenting during the Prevention Town Hall in March 2018, please respond by February 16th by clicking here.