Situational prevention to end sexual violence on campuses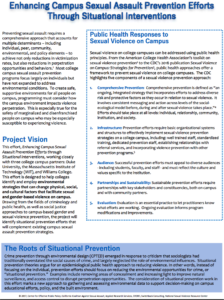 How do we prevent sexual and domestic violence?  While many prevention strategies try to educate and train, individuals to change their knowledge, attitudes, beliefs, and behavior, greater impact can be made by making changes in the environment. This is the principle behind public health frameworks such as the
Social Ecological Model
and
Spectrum of Prevention
.
A new publication, Enhancing Campus Sexual Assault Prevention Efforts Through Situational Interventions, describes how situational prevention, originally a criminal justice concept know especially as Crime Prevention Through Environmental Design (CPTED), can align with social justice and public health models to advance efforts on college campuses to prevent sexual violence.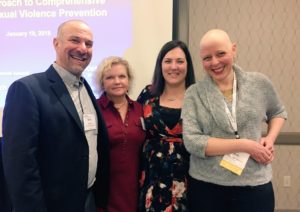 In January 2018, PreventConnect's David Lee joined colleagues to present on situational prevention at the
NASPA Strategies Sexual Violence Prevention Conference
highlighting the work done at Williams College looking at campus social spaces, which students identify as a primary location for unwanted sexual touching. This project developed a mapping methodology to collect both quantitative and qualitative dimensions of student experiences in order to identify changes to the social space environment. By employing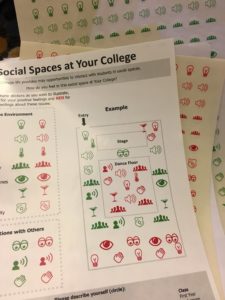 environmental strategies that can change physical, social, and cultural factors that facilitate sexual and gender-based violence on campus, we can enhance other sexual violence prevention activities taking place on campus.
This resources was developed through a collaborative project of the
Center for Effective Public Policy
,
California Coalition Against Sexual Assault
,
Applied Research Services
,
EVERFI
, Switchback Consulting, and
National Sexual Violence Resource Center
with funding by the
Office of Sex Offender Sentencing, Monitoring, Apprehending, Registering and Tracking (SMART), Office of Justice Programs, U.S. Department of Justice
.