The Cost of Sexual Violence is high: Invest in Prevention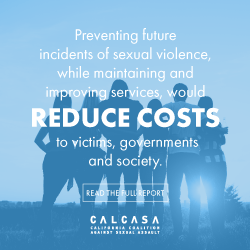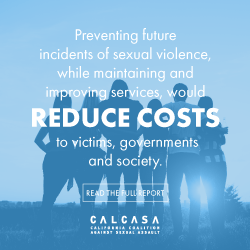 Today the California Coalition Against Sexual Assault (CALCASA) released a report The Cost and Consequences of Sexual Violence in California that shows the costs of sexual violence in California in 2012 was $140 billion including both tangible and intangible costs.  To reduce those costs we must invest in prevention.
CALCASA's Chief Executive Officer Sandra Henriquez wrote about the importance of prevention in her blog about this report: "Our vision is BIG – a sexually respectful and healthy world free from sexual violence. The Cost and Consequences of Sexual Violence in California is a critical piece in accomplishing this vision. In order to accomplish this task, everyone must recognize their part in shaping a vision for the future: vision that disallows molestation as a first sexual experience, a vision where laborers support their families without fear of a sexually hostile work environment, and vision where we have the courage to remove those elements that normalize sexual assault in society from sexist comments to looking the other way. It is essential that everyone buy into the big picture because as this report evidences, not doing so is far more costly.  Further, by investing in California's sexual violence intervention and prevention efforts, we invest in a healthy future for California."
The report was written by Ted Miller, Deena Fulton and myself.  The costs are higher than reported in the 2017 article Lifetime Economic Burden of Rape Among U.S. Adults as the California analysis included the costs associated with children who experience sexual violence.  By understanding the costs, we can chose to wisely make investments that will prevent sexual violence.