2018 Campus Prevention Network Annual Summit registration opens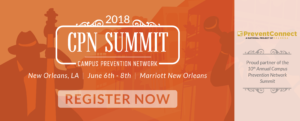 PreventConnect is heading to New Orleans in June to attend the 10th annual Campus Prevention Network Annual Summit presented by EVERFI.
Higher education and other allied professionals from across the country will attend the three-day gathering to learn, share, and explore strategies for enhancing prevention efforts on campus. We look forward to seeing colleagues who are at the cutting-edge of prevention and meeting new leaders working to create healthier campuses.
To learn more bout the summit and to register, please visit https://cpnsummit.everfi.com/. Be sure to use promo code "calcasasummit100" to take advantage of a special registration rate.