New Resource from ASTHO: Sexual Violence Prevention Framework Resource Tool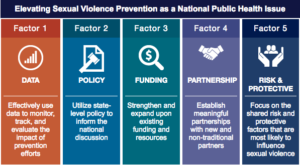 The Association of State and Territorial Health Officials (ASTHO) in partnership with the Safe States Alliance recently released a new online prevention resource, the Sexual Violence Prevention Framework Resource Tool. This framework is designed for state health officials, state leadership, and agency staff to build, enhance, and elevate sexual violence prevention and its importance as a public health issue, and to engage a leadership perspective in sexual violence prevention.
The five factors listed in the image above were essential components of building and sustaining prevention efforts identified through a learning community, and the strategic objectives that accompany each of the five factors are concrete action steps towards prevention. Many of the strategic action steps focus on community-driven and community-level prevention, calling for a need to foster partnerships between public health entities, sexual violence agencies, and community members, and to inspire solutions that have the greatest impact across an entire community.
This framework includes within each of the five factors and their strategic objectives many resources from across the field to assist public health leaders and preventionists in achieving their sexual violence prevention goals. Combining efforts across sectors to elevate sexual violence prevention will help us get closer to seeing communities free of violence, and this framework is a great tool for engaging public health leadership in sexual violence prevention work!