Preventing sexual violence in sport: Panel at APHA Annual Meeting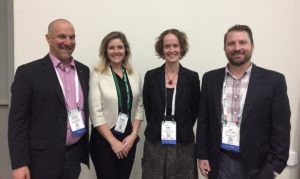 At the 2018 American Public Health Association Annual Meeting in San Diego on Monday, I presented at a great panel session titled "Preventing sexual violence in sport." Along with three colleagues, we shared the opportunities for sport to be part of the solution in ending sexual violence. Each of us shared examples of comprehensive prevention efforts that involve engaging athlete, coaches and administrators in advancing sexual violence prevention within sport and how sport can take leadership in prevention efforts for the broader society.
I started the session describing the work of RALIANCE in its Sport + Prevention Center.and the report How sport can end sexual violence in one generation. In the presentation I share how our research showed that sport can promote accountability, social cohesion and self control, all of which are protective factors for sexual violence prevention.
Jeffrey J. Milroy, DrPH, MPH, of the University of North Carolina Greensboro followed with his presentation on "Translating evidence into sexual violence prevention for collegiate student-athletes."
Jennifer Yore, MPH, of Center on Gender Equity and Health (GEH), University of California, San Diego, describe the researcher think tank hosted by the GEH and RALIANCE "Sport as an incubator and accelerator for sexual violence prevention. " which resulting the RALIANCE report Recommendations for Next Steps In Research and Evaluation. The final presentation by Katie Hanna, MEd, U.S. Center for SafeSport, "Putting Athlete Well-being First:  How the U.S. Center for SafeSport is working to champion respect and prevent abuse in sports." Described sexual violence prevention efforts in the 50 National Governing Boards of the US Olympic movement.
This panel presentation was important to demonstrate how public health concepts of prevention can support making changes in sport in order to prevent sexual violence.