RALIANCE's Annual Progress Report Out Now
"Prevention is possible. Survivor's voices are powerful. Together, we will end sexual violence."
This year brought sexual violence, harassment, and harm to the center of our national conversations and media, thanks to the #MeToo movement and the strength and resiliency of survivors sharing their stories and seeking accountability for perpetrators. RALIANCE's newest publication Ending Sexual Violence in One Generation: A progress report for the United States 2018 summarizes this eventful year and explores implications for future prevention efforts.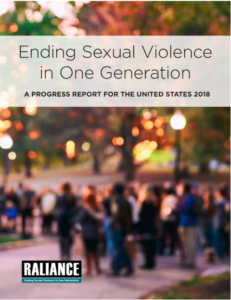 The report highlights key moments from the past year across many sectors, including #MeToo advocacy and activism, media, government leadership and policy, prevention, and institutional engagement. Prevention advancements of the last year include bystander empowerment, early intervention for adolescents with problematic sexual behaviors, and promoting healthy masculinities, such as the work Black Women's Blueprint shared on a recent web conference with PreventConnect.
The impacts of this year continue to reverberate through our communities. Heading into a new year full of its own challenges and successes, we must continue changing the conversation about sexual violence to one that supports survivors and centers prevention.
To read Ending Sexual Violence in Once Generation: A progress report for the United States 2018, click on this link.