Consent Campaign Guidebook from the Vermont Network Against Domestic and Sexual Violence
The Vermont Network has released the third edition of their Consent Campaign Guidebook. This is a free resource that provides guidance for middle and high school teachers, as well as any adult working with teens.
The Guidebook aims to create opportunities for teens to increase their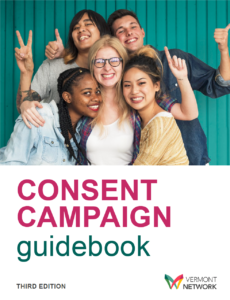 knowledge about consent, strengthen their skills and pro-social behaviors, and bolster community-wide changes in attitudes toward healthy sexual relationships.
Included in the Guidebook are:
Detailed consent lesson plans for grades 7-10
Step by step instruction on creating a consent campaign in schools or communities
Guidelines for how to respond appropriately to students' disclosures of sexual harm
Resources and links
The Guidebook also includes sample pre/post surveys to assist in evaluating a consent campaign.
With so many consent education and consent campaigns being geared toward older audiences, it is great to see a resource to assist adults with starting these conversations earlier.