Bystander Mixtape: New Training from Black Women's Blueprint
Black Women's Blueprint recently launched their new bystander intervention curriculum and training "Bystander Mixtape: Transforming Men from Bystanders to Interventionists." The accompanying toolkit gives prevention practitioners a sample of the curriculum and provides an overview of the program.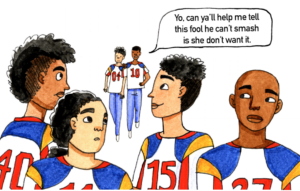 The toolkit provides examples of many scenarios that warrant an intervention, from locker room talk to drugging drinks and isolating intoxicated people from their friends. Bystander Mixtape takes the onus of prevention away from survivors and on to the community, giving a strong message that it's on everyone to promote safety. Bystander Mixtape is designed by, for, and with African American communities, young adults, and men. Their website says, "this training will help to realign the need for Black Men to take a more aggressive stance against patriarchy, abuse and other acts of violence performed within our communities, especially against our Black Women, Trans Women, and Gender Non-Conforming Population."
Bystander Mixtape outlines five steps to becoming an interventionist:
 Spot oppression
 Know it's not right
 Make it your business
 Use your head and come up with a plan
 Step up and interrupt
Culturally-informed prevention goes beyond adapting an existing program to fit a community's needs, but instead requires community involvement and leadership from the beginning of a program process and throughout. Bystander Mixtape from Black Women's Blueprint fills a disparity in prevention program design and elevates the anti-violence field and anti-oppression work.
Click here to learn more about Bystander Mixtape and to request a training. Black Women's Blueprint shared some of their work on the PreventConnect web conference Toward Gender Equity: Supporting healthy masculinities for sexual and domestic violence prevention. Read the guest profile highlighting the work of Black Women's Blueprint here.