New Report: What Works to Prevent Sexual Violence Against Children
Sexual violence is preventable, and as evidence emerges in the field of sexual and intimate partner violence prevention, practitioners, advocates, and policymakers make informed decisions based on the best available evidence. Together for Girls, with The Equality Institute and the Oak Foundation, conducted a systematic review of best practices to prevent and respond to sexual violence against children and youth. The prevention practices examined in this review span the INSPIRE Seven Strategies for Ending Violence Against Children framework: Implementation and enforcement of laws, Norms and values, Safe environments, Parent and caregiver support, Income and economic strengthening, Response and support services, and Education and life skills.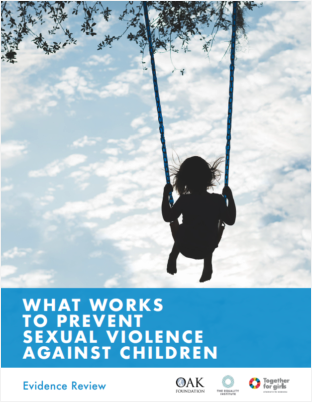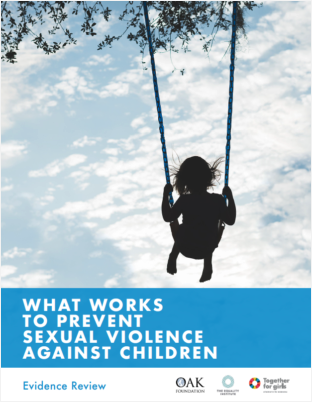 Although not all the prevention approaches listed meet the threshold for the most effective and most promising practices, even knowing what practices have prudent evidence, and even conflicting or harmful evidence, helps the field of sexual and intimate partner violence prevention have an impact on reducing violence. The 52-page executive summary lists the effectiveness of several strategies and provides examples of what they look like in practice. Many of the strategies and approaches that have at least some evidence of effectiveness for the primary prevention of sexual violence include laws that limit alcohol misuse, community mobilization for social norms change, mobilizing boys and men, changing policies and the physical environments of schools, parenting programs to prevent teen dating violence, and healthy relationship, safe dating, and bystander intervention programs in schools. Also included in the review are practices that are harmful or unintentionally increase risk of violence, like notification and sex offender laws for juveniles who sexually offend.
The more the field knows about what does and does not work to prevent sexual violence, the more practitioners are able to put theory into action for prevention and gain support and buy-in from stakeholders. The urgency to prevent sexual violence–especially sexual violence against children and youth to prevent ACEs and long-term harm–remains no matter how fast researchers work to find the best, gold standard effective solutions. What works to prevent sexual violence against children and youth will look different in every context, so having a springboard of prevention ideas that work, like the ones featured in this report, can activate prevention practitioners for building healthy, safe communities.
Read more about What Works to Prevent Sexual Violence Against Children here, including links on their website to prevention solutions spotlights and a resource hub.