Beyond Trends: Hashtags that are creating social change
The sexual and intimate partner violence prevention field is well aware of the power of a hashtag. Since Tarana Burke's me too. movement went viral as #MeToo 2017, sexual and intimate partner violence, prevention, and supporting survivors have become an engrained part of national conversations, both on- and offline. Hashtags can help build a national movement and connect others interested in the same area, as well as connect with leaders in the field on social media. Organizations typically use social media to promote events or resources, but organizations can also be involved in prevention education and changing culture online, too. The following list is a sampling of prevention-focused hashtags that others can share or draw inspiration from for creating their own sexual and intimate partner violence prevention hashtag.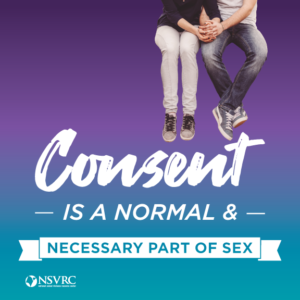 #IAsk
#IAsk is the theme of the Sexual Assault Awareness Month, and the National Sexual Violence Resource Center has a library of resources for spreading the message about asking for and respecting consent. They have social media shareable graphics with simple messages about consent such as "Consent is a skill, you get better as you practice." The NSVRC also hosts a #30DaysofSAAM contest on Instagram with open ended prompts related to preventing sexual violence and supporting survivors that any Instagram user can participate in.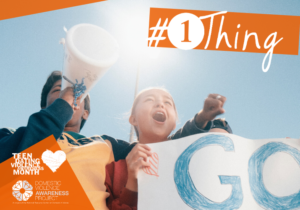 #1Thing
The National Resource Center on Domestic Violence created #1Thing for Domestic Violence Awareness Month, which mobilizes people and communities to commit to one thing they can do to prevent domestic violence and support survivors. Social media share graphics include prevention education messages like the importance of modeling respect and equity in various types of relationships.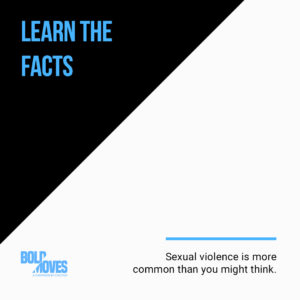 #BoldMoves
The California Coalition Against Sexual Assault's campaign is #BoldMoves, which is also a full website with ways everyone can learn small actions that translate to bold moves that prevent and end sexual harassment, abuse, and assault. Bold moves for prevention can be actions, questions, and conversations that everyone can do to change the culture to one without violence and that supports safety and healing for all.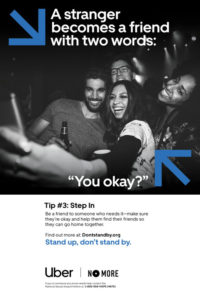 #DontStandBy
NO MORE and Uber partnered to create #DontStandBy, a call to Uber riders and drivers and others to be active bystanders in rideshares, nightlife, and elsewhere to ensure everyone has a safe, fun experience free from sexual violence. #DontStandBy offers scenarios, resources, and safety tips for how to intervene and support friends and others to prevent sexual violence.
These are just a few examples of how sexual and intimate partner violence prevention can harness the power of social media to create social change. While not all of these campaigns are social marketing campaigns, prevention practitioners can draw inspiration from their messages and combine that with social marketing strategies for community-level violence prevention. Check out these PreventConnect resources on social marketing for sexual and intimate partner violence prevention: