CDC's VetoViolence Launches Sexual Violence Indicators Guide and Database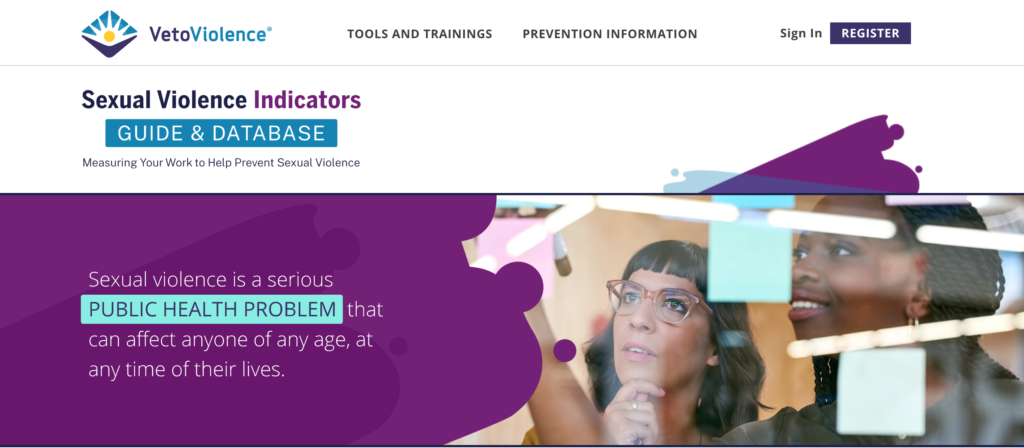 Last week the Centers for Disease Control and Prevention (CDC) launched a guide and interactive database to assist prevention practitioners in measuring their efforts to prevent sexual violence. The Sexual Violence Indicators Guide and Database provides a way for practitioners to kickstart their ability to identify potential indicators and explore direct links to publicly available data sources, assess the fit of potential indicators, and create a plan to collect, analyze, and use indicator data to inform prevention efforts.
VetoViolence defines an indicator as a, "documentable or measurable piece of information, from a data source, regarding some aspect of the program/strategy being evaluated." Indicators span the social-ecological model and can be used as outcomes to assess the impact of prevention efforts.  The Guide provides a four-step process for users to identify, assess, and properly use indicators to evaluate their violence prevention efforts. It also provides an example of how a program would use these four-steps in their Rape Prevention and Education (RPE) program. For practitioners who have not previously used indicators, the Guide is a great place to start to build comfort and familiarity before exploring the Database.
After exploring the interactive guide, the Sexual Violence Indicators Database provides more than 130 indicators related to sexual violence and related risk and protective factors. The database includes indicators from publicly available data sources. Some of the indicators are available at local levels and all are available at the state-level.  The database includes a search function and can be filtered by outcome, data source, and data population type allowing users to narrow down the types of indicators to fit program need and goals.
For more information on sexual violence indicators, publicly available data, and evaluation check out these past PreventConnect web conferences:
Community-Level Indicators: Advancements in Evaluating Sexual, Domestic, and Other Forms of Violence Prevention
Using Publicly Available Data to Evaluate Sexual Violence Prevention Programs