Preventing violence amidst the pandemic: A spotlight on Ujima, Inc. and Hogg Foundation for Mental Health (Part 2)
This blog was written by Abena Asare, Alisha Somji, and Lisa Fujie Parks of Prevention Institute
A note of gratitude and appreciation to Megan Simmons and Vicky Coffee for their contributions to the web conference and all the work they do.
Children, youth, and families are experiencing intensified stresses and new traumas as our country and the entire world work to contain the novel coronavirus and save lives. At the same time, community members, practitioners, and advocates across the country are stepping up to prevent violence in homes and meet this moment with connection, care and an unwavering commitment to justice. This blog series shares specific examples of how groups are identifying and addressing community needs, connecting with different population groups and advocating with funders and policymakers in support of children, youth, and families. It is based on an April 14 and 17 PreventConnect web conference.
This second blog post of the series is about informing and advocating with funders and policymakers during this time of crisis. It spotlights Ujima's policy efforts to support Black women and the Hogg Foundation for Mental Health's guidance on strategic partnerships between philanthropy and grantees to best support families and communities.
Ujima, Inc.: Lifting up the voices of Black women and advocating for their security
Ujima, Inc.,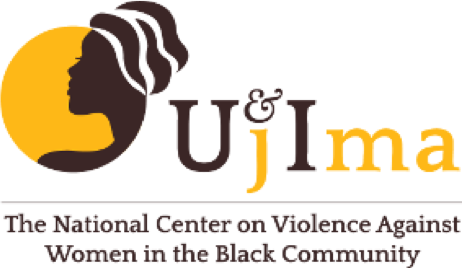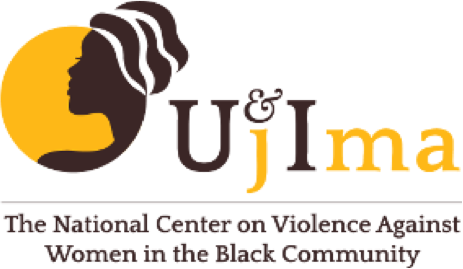 the National Center on Violence Against Women in the Black Community, is a culturally specific organization and a project of the DC Coalition Against Domestic Violence. During the pandemic, Ujima has been bringing awareness to the health inequities that have long existed in the United States that are putting African Americans at a greater risk of death from COVID-19, such pre-existing health conditions and challenges in physical distancing (e.g. being essential workers or living in dense housing conditions).
As part of its policy work, Ujima plays a bridging role between what's happening in federal policy and what needs are coming up in communities. Specifically, during this time, the national center has been reaching out to staff at Capitol Hill to see if there's any way to assist and staying up to date with current policy measures like the CARES Act. The goal is to both advocate for policies that can support its constituents and break down the dense language of policies that do pass to make them more understandable and relevant. For example, during early conversations about the federal COVID-19 stimulus checks, Ujima advocated that the checks be available not only by direct deposit but also in a physical check understanding that some people don't have bank accounts. Megan Simmons, a senior policy analyst at Ujima also spent time making sure people understand how to access the checks. She says, "Policies can be very language heavy and with all of the information people are getting, they really just want to know how this going to impact me and my family."
Ujima is also lifting up the voices of Black women and why issues such as economic insecurity affect Black women–many of whom are the key breadwinners in the home. Ujima is working to try and prevent increases in violence due to added stressors by supporting mothers in finding resources to manage bills and other actions to stabilize the home. They are continuing to work with and assure their community members that help is out there and various resources are available.
Hogg Foundation for Mental Health: Responsive and strategic partnerships between philanthropy and grantees to support families and communities in crisis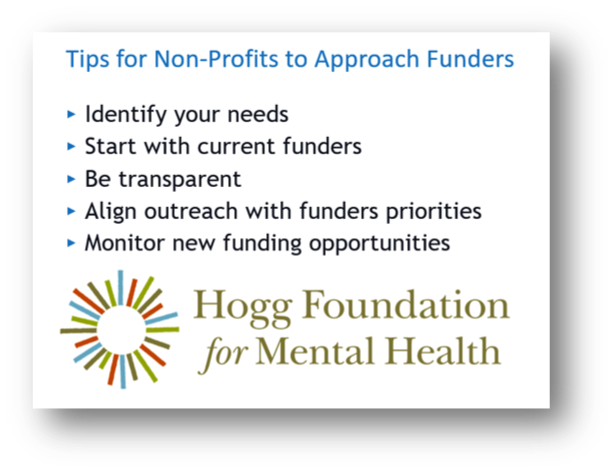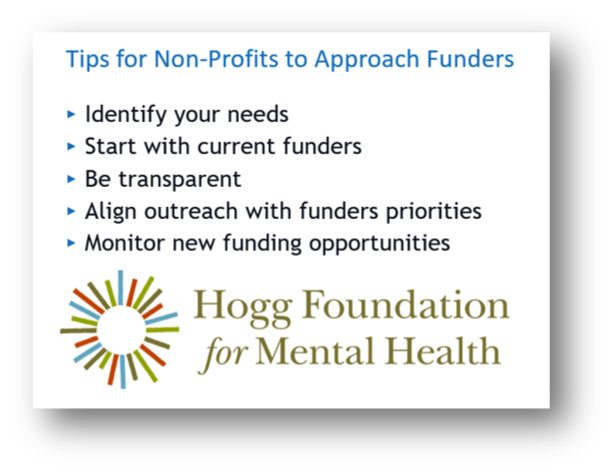 The Hogg Foundation for Mental Health is a Texas-based foundation that focuses on improving mental health and wellness in everyday life. Vicky Coffee, director of programs at the Hogg Foundation, believes that funders can be helpful during the COVID-19 pandemic by being available, flexible, responsive, strategic, and informative. She says, "It's important for funders to communicate with and assure grant partners that we're still here for them and offer the same level of support we provided before this crisis." The Hogg Foundation has offered support through activities such as town hall meetings and online office hours for grantees to drop in and ask questions.
Flexibility has been important in the Hogg Foundation's approach as the needs of communities are in flux. Goals and objectives for grants that were funded before the pandemic could look different now and funders can work with their grant partners to shift these goals and objectives, as well as deliverables and timelines, to be more aligned with emergent needs. Vicky Coffee says, "Funders can listen to the concerns of the communities they support by creating environments where grantees can be candid and honest and elevate the voices of those historically not heard about the challenges they're facing without fear of losing their funding." The Hogg Foundation is being strategic by continuing to center efforts around those who have been excluded and whose voices have not been heard and leveraging its position of influence to funnel information to legislators about community needs.
Many grantees are navigating how to work with and approach funders during this unprecedented time. Vicky recommends starting with funders that organizations have relationships with and sharing with them what work your organization is doing to support your populations amidst the pandemic. She also recommends identifying what your needs are, determining your ask, and thinking through a high-level budget. For example, is funding needed for infrastructure support or for specific activities? Funders are offering greater flexibility and grantees can ask how flexible they can be with their current funding and what the process would look like to seek additional funding.
Many foundations are thinking about ways to be supportive during these times and over 660 philanthropic organizations have signed a pledge through the Council of Foundations to recognize and work with partners to address the critical needs taking place with this pandemic. The pledge includes advocating for certain policy changes where applicable, making new grants as unrestricted as possible, and loosening or eliminating the restrictions on current grants. Leaders within the philanthropic community are working together to collectively hold each other accountable and to being as responsive as possible during these times.
Check out part one of the series and stay tuned for the third and final post about the importance of connection in supporting families and preventing violence and how sustainable systems changes are needed to achieve justice.