Free Virtual Bystander Intervention Toolkit
Many prevention practitioners are working to adapt their prevention strategies and approaches to a physically-distanced, increasingly virtual world during the COVID-19 pandemic. Soteria Solutions has responded to these new conditions and has released a free bystander intervention toolkit with images to be used on social media that aim t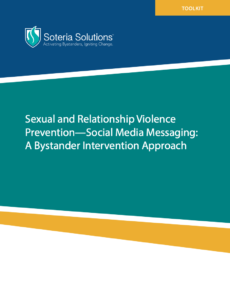 o "increase recognition of sexual and relationship violence and demonstrate bystander intervention skills that can be implemented during the COVID-19 pandemic."
The toolkit includes graphics and images to be used on Twitter, Facebook, and Instagram with suggested social media post language and links to additional resources. These tools are categorized into three series:
Risk Factors Series
Be a Positive+ Bystander Series
Ask Yourself Series
The images, graphics, blog posts, and more included in the toolkit demonstrate bystander intervention skills that can be implemented during COVID-19. The toolkit also highlights the ways that many of the negative outcomes of the COVID-19 pandemic increase risk factors for sexual and intimate partner violence and points to the "seesaw effect" where there is a decrease in the recognition of dangerous or potentially dangerous situations. Practitioners are encouraged to use the resources in ways that make sense for their specific communities. Learn more and download the toolkit here.