The 2020 National Sexual Assault Conference
The 2020 National Sexual Assault Conference (NSAC), hosted by the California Coalition Against Sexual Assault (CALCASA), gets going on Wednesday, September 2nd and will go through Friday, September 4th. The theme of this year's conference is "Bold Moves," and will focus on providing cutting-edge information, effective and relevant practices, and content that incorporates culturally appropriate programs and services to underserved communities to change the conditions that promote sexual violence.
Our partners at the National Sexual Violence Resource Center have joined us to sponsor four prevention-focused workshops over the 3-day event. We know that relying on systems built on oppression create unsafe environments particularly for Black, Indigenous, People of Color and that prevention work must include changing these larger systems that perpetuate oppression. Check out the prevention track offerings below for more information on how presenters are making #BoldMoves toward preventing sexual violence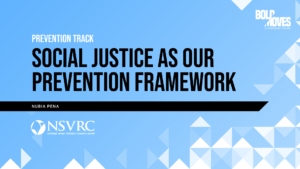 Social Justice As Our Prevention Framework
Presenter: Nubia Peña, Utah Coalition Against Sexual Assault (UCASA)
We cannot discuss prevention of sexual violence without discussing the oppressive practices that are normalized in our communities and institutions across the nation. From dress codes and harassment policies that disproportionately target women"s bodies, trans bodies, bodies of color and LGBTQ+ youth to implemented practices that place the burden of sexual harassment on the individual that experiences it- prevention practitioners can become involved beyond their specific sphere of influence by advocating and advancing policy reforms in a way that promotes greater justice and access to rights, safety and dignity.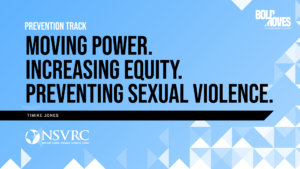 Moving Power. Increasing Equity. Preventing Sexual Violence
Presenter: Timike Jones, Indiana Coalition Against Domestic Violence
The workshop is intended for seasoned primary preventionist that inspire to look beyond individual power models of violence to examine inequitable power and address the root causes of violence at the community and societal levels. The workshop encourages primary prevention practitioners to examine oppression, intersectionality, and power inequities as primary prevention strategies. We will explore how to shift power in their communities as primary prevention strategies.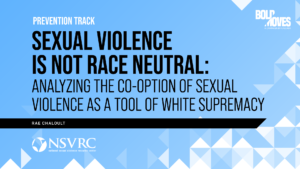 Sexual Violence Is Not Race Neutral: Analyzing the Co-Option of Sexual Violence as a Tool of White Supremacy
Presenter: Rae Chaloult
While calls to abolish policing and prisons have always existed, they continue to gain attention and movement as Black advocates and activists continuously work to stop police violence and uproot White supremacy. As abolition calls continue to grow, prevention educators are needed to answer questions like: where would the perpetrators go if prisons do not exists? This session will focus on how prevention educators can facilitate conversations that do NOT allow for a co-option of survivors' experiences with violence to be used as a tool of White supremacy. Participants will leave the session with personal reflection centered on the question: what is my role in creating community accountability?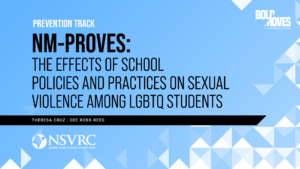 NM-Proves: The Effects of School Policies and Practices on Sexual Violence on LGBTQ Students
Presenters: Theresa Crus, University of New Mexico & Dee Ross Reed, University of New Mexico
Youth identifying as lesbian, gay, bisexual (LGB) and transgender/gender non-conforming (TGNC) are at increased risk of sexual violence compared with straight, cisgender youth. School policies and practices inclusive of differing sexual orientations and gender identities may mitigate this risk. We studied the effects of four school policies and practices on the risk of sexual violence among LGB and TGNC students. Participants will learn about our findings and their policy implications and will contribute to the interpretation of results.