International Anti-Street Harassment Week 2021
This blog was written by Meghna Bhat, PhD (Project Manager, ValorUS), originally published on ValorUS' site during International Anti-Street Harassment Week 2021.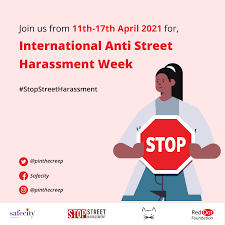 Sexual Assault Awareness Month provides practitioners, advocates, and allies the opportunity and tools they need to prevent and end sexual violence. As part of this momentum, from April 11-17th, we also share our platform with International Anti-Street Harassment Week (April 11-17) . This global event is hosted and organized by Stop Street Harassment, one of VALOR's long standing collaborators in addressing and ending sexual violence.
Every year, I write a blog on what this week of anti-street harassment has meant to me, a survivor of sexual violence, and to our anti-sexual violence movement, and what can be collectively done to address and prevent street and sexual harassment in our communities. This year, as I write this blog, I confess feeling overwhelmed with grief and anxiety. With every year bringing new accounts of deaths due to street harassment – or stalking or sexual violence- it only furthers my need to highlight it once again. The tragic death of Sarah Everard in South London, a 33-year old woman who went missing and was found dead has left women in the UK and around the world feeling unsafe and scared while walking and running in the streets. Like many of my peers, learning of this incident triggered feelings of anxiety as a response to our past trauma. It is not a new feeling.
Growing up in India and then in the US, I have experienced multiple levels of street harassment and have remnants of PTSD. Living in a constant state of being hypervigilant is a norm for me. I am eternally exhausted by the ongoing negotiations I have to take to make sure to avoid being harassed, or followed, or stalked or catcalled by men. Whether it is not walking after dusk, or standing alone at a bus stop, or wearing clothes that can get people's uncomfortable attention– even though none of this justifies sexual violence of any form. The victim blaming and rape culture is so deeply internalized in young girls and women including me that I personally find it hard to unlearn and dismantle these "habits" that are perceived to keep us safe.
Young girls and women – especially from communities of color or other vulnerable groups- still encounter harassment and gender based violence in public spaces despite all the "measures" being taken. Those who have multiple identities belonging to marginalized groups such as LGBTQ+ individuals, those with disabilities, those unhoused, from communities of color, those with a different nationality or undocumented are at a higher risk of experiencing sexual violence. For instance, the horrifying news of the eight people who were shot near Atlanta GA including six Asian women in different massage parlours by a 21-year old white man further demonstrates how racist and gendered stereotypes of women of color, particularly Asian women, are rooted in misogyny, power and control resulting in blaming the victim for the violence.
Collectively we can shift the culture in order to hold those who abuse and harass others accountable, while engaging and teaching our boys and men to stand up against sexism. We all deserve to live in safe and inclusive communities and in order to build those spaces, we must safely be able to intervene if we see someone being harassed, and have these uncomfortable yet critical conversations with families and friends. Do we interrupt or sexist or racist jokes or videos? Do we call in a person who says "Boys will be boys" or "Catcalling is a compliment" and engage in a dialogue with them? Do we have conversations about stereotyped representations in the media about young girls and women of color with our families? Transformative work is difficult and slow yet I strongly believe we each can play a role in preventing and ending street harassment, one person and community at a time, one conversation at a time, and ultimately shifting the culture one generation at a time.
Street harassment is a pervasive and serious form of sexual violence that must not be normalized, trivialized or ignored. I envision a world free from violence and which fosters equity and justice, and addresses the intersectionality between street harassment, sexual violence and other forms of injustice.
As preventionists, advocates, and leaders in the anti-sexual violence movement, we need to recognize that in order to prevent and end the continuum of sexual violence, we must not only realize how it intersects with race, gender, sexual orientation, nationality, and other identities. But also as a community, we must step up and show up for each other and for our communities and find ways to advance equity and justice. The 2021 Sexual Assault Awareness Month Toolkit created by our VALOR team in English and Spanish is an excellent resource which explains the connections between anti-sexual violence movement and other forms of social justice such as racial equity, LGBTQI equity, alternatives to criminalization, economic justice, disability justice and health equity. This toolkit also includes action steps and examples of how you can fearlessly contribute to this anti-sexual violence movement. I strongly believe we all have the valor to take these steps to shift the culture, and create community accountability to prevent violence and change norms.