2021 National Sexual Assault Conference is Happening Soon!
PreventConnect is a national project of ValorUS, and ValorUS is proud to host the National Sexual Assault Conference (NSAC), happening online August 4-6, 2021. The theme is Advancing Equity, Ending Sexual Violence. Attendees can join the conference virtually from wherever they are. Registration is full, but a waitlist is now open and people will be added to the conference as "seats" become available. You won't want to miss this opportunity to hear from transformative leaders and fearless activists who are working towards ways we can prevent and, ultimately, end sexual violence.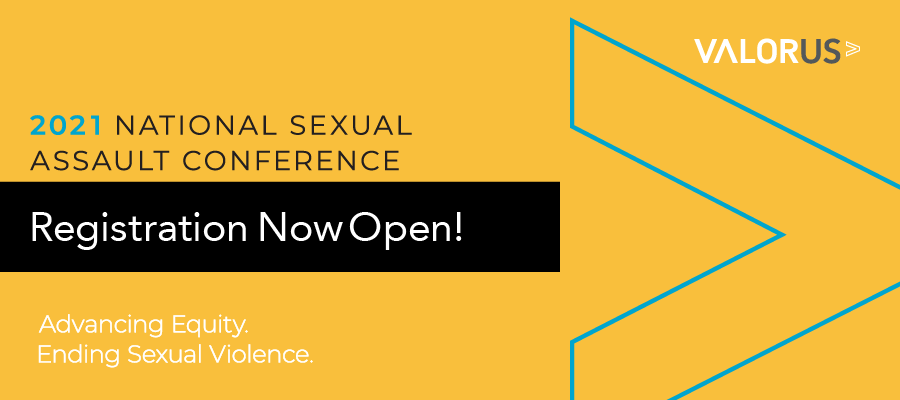 With thirteen different sessions and two stellar plenaries, attendees will be able to design their own NSAC experience. Elements of prevention and intervention are woven throughout the conference and the sessions cover issues related to immigration, accessibility, labor and even social movements. There is a designated prevention track full of workshops targeted to prevention practitioners and the work they do in communities and in their own organizations.
Prevention practitioners have made the connections to root causes of sexual violence and have expanded what prevention can look like, but how do we ensure commitments are not just performative? This track is to support the work in moving from statements of commitment to social justice to practicing social justice within our organizations and structures that we work in. These workshops call us to examine, change, and evaluate our internal processes to advance equity within and through our organizations. Join us and register!
The Prevention Track is sponsored by the National Sexual Violence Resource Center with funding from the Centers for Disease Control and Prevention.
NSAC Prevention Track workshops include:
Register now to attend the virtual 2021 National Sexual Assault Conference.