Reflections from the 2021 National Sexual Assault Conference Prevention Track
The 2021 National Sexual Assault Conference was held virtually August 4-6 and featured six plenary speakers and thirteen sessions all bringing attention and focus to the theme, "Advancing Equity. Ending Sexual Violence."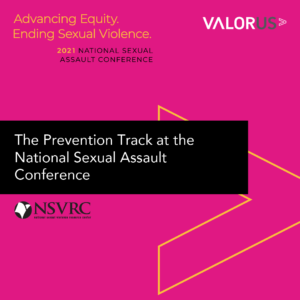 The Prevention track was sponsored by the National Sexual Violence Resource Center with funding from the Centers for Disease Control and Prevention. In keeping with the theme of the conference, the Prevention track moved participants beyond making connections to root causes of sexual violence to discussions of practical examples to foster equitable environments within organizations and through prevention practice. The track's sessions called on practitioners to examine and evaluate internal processes to advance equity within and through organizations.
The first Prevention track workshop, presented by Lisa Fujie Parks of Prevention Institute and titled Community Safety Realized: Justice and Equity on the Pathway to Preventing Violence, brought to focus that any path to equity must address the structural roots of violence and involve community, relationship, and individual transformation. Lisa shared this quote from Movement Strategy Center that resonated with participants, "Our issues and problems are interconnected, so our systemic solutions and movements must be as well." The workshop led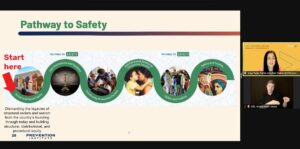 participants in thinking about how behavior choices can lead us either towards our values or away from them. As Lisa shared, there are choices everyday that allow us to pivot in small, repetitive ways that will shift the direction of our work toward equity and justice.
Next up in the Prevention track, Kathryn Evans of Rooted Strategy and Ja'Naé Bates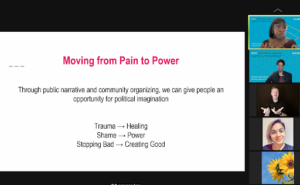 of Yes 4 Minneapolis presented Pain to Power: Using Public Narrative and Community Organizing to Create a More Equitable World. Kathryn and Ja'Naé opened the session with the statement that, "Through public narrative and community organizing, we can give people an opportunity for political imagination." They then led participants in reframing the issues of trauma, shame, and stopping bad behavior to imagining what healing, power, and creating good behaviors can offer. Prevention, and primary prevention in particular, can be difficult to message and communicate to partners and stakeholders and this session offered prevention practitioners a community organizing and storytelling framework for casting a vision of an equitable world free of sexual violence.
The last day of the conference began with a Prevention track session led by Rosa Beltré and Caitlin Burke of the Ohio Alliance to End Sexual Violence and Jessie Nieblas of the Louisiana Foundation Against Sexual Assault titled Walking the Walk: Connecting Social Justice Values to Your Organization's Work. Presenters in this session engaged participants in evaluating how deeply their prevention practice was rooted in anti-oppression practice. Rosa stated, "It takes valor to evaluate and determine the way we have been doing prevention work is not working – it's not one size fits all." Rosa, Caitlin, and Jessie shared examples of how their coalitions are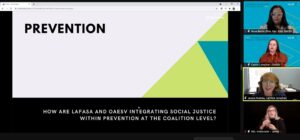 taking steps internally, with partners, and more broadly statewide, to challenge oppressive systems and advance equity and prevention.
The Prevention track closed with a session led by Deanne Alcantara-Thompson of API Chaya and Joanne Alcantara titled Living Wages: Advancing Equity in Organizations. The session began with an interactive activity that invited participants to share their personal values. This then led into a discussion around how aligning organizational practices with personal and shared values is one step in advancing equity to end sexual violence. Joanne and Deanne then shared the process that their organization underwent to create living and sustainable wages for staff. While strengthening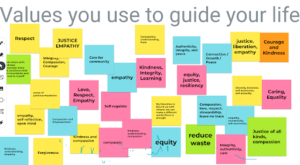 economic supports for women and families is an increasingly popular prevention strategy, wages for many sexual assault advocates and prevention practitioners remain very low. Too often organizations can replicate the systems of oppression that we are trying to end in our efforts to prevent sexual violence. This session offered practical examples of practices to better reflect the world we are trying to create.
The National Sexual Assault Conference is an annual event meant to inspire, connect, and create additional pathways towards solutions. This year's Prevention track invited participants to look both within and without, to imagine a transformed world where equity is the norm, and to take concrete action to realize the world we imagine. Missed the conference this year? Find plenaries and workshop recordings here.