Part 2 – Sexual Violence in Disasters: A new resource from the National Sexual Violence Resource Center
This blog was authored by ValorUS intern, Leah Holtz.
The COVID-19 pandemic has brought to light the need for inclusive, well-funded, and community driven disaster preparedness. As organizations, government entities, and businesses grapple with creating plans for both disaster prevention and response, it is important to keep in mind how both human-caused and natural disasters exacerbate inequities, causing greater harm to already marginalized communities. The National Sexual Violence Resource Center, in partnership with an advisory group made up of local, state and national groups dedicated to racial justice and ending oppression, has released the guide, Sexual Violence in Disasters, an updated resource that builds on the work of one of their most requested guides, Preventing and Responding to Sexual Violence in Disasters: A Planning Guide for Prevention and Response (Klein, 2008).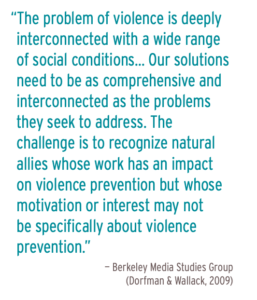 Sexual Violence in Disasters is a comprehensive guide, covering how risk factors for sexual violence victimization and perpetration are heightened during and while recovering from a disaster. Disasters also make it difficult for survivors to heal and access services and to hold people who commit sexual violence accountable. Prevention efforts are disrupted as organizations pivot to meeting basic needs and in some situations, close or limit activities. Efforts that focus on increasing access to economic opportunities and education, as well as resources such as housing and mental health care, can be particularly hard hit as funding and other resources are diverted, and the economic condition of the community worsens. It can take decades for a community to recover financially from a disaster, increasing existing disparities. Sexual Violence in Disasters deeply delves into how disaster response and preparedness frequently fails to consult and take into account the needs of oppressed communities, such as Black, Indigenous, Latinx, Asian and Pacific Islander, LGBTQ, disabled, and immigrant communities.
In Part 1 of this blog, we highlighted healing strategies, mutual aid, and access to basic needs as part of a comprehensive response to disasters. This blog will explore lessons related to partnerships and prevention featured in the guide.
Community Partnerships
Sexual and domestic violence prevention organizations should consider building coalitions with community organizations and government agencies to better address the multilevel response needed in disaster preparedness and response. Preventing sexual violence involves partnerships with survivors and the community the efforts are aimed at. Collaboration with others is a key component of trauma informed, culturally responsive prevention. Many of the same protective factors for violence are also factors that can strengthen a community and assist them in recovering faster from disasters. Protective factors that can decrease the likelihood of violence occurring, such as, safe and affordable housing, access to resources, healthcare, economic opportunities, community connectedness, and support from family and friends are also all part of building communities that have a strong base to recover faster from disasters. A great deal of community organizations, service providers, and government agencies work toward and support the factors mentioned above, and could make good partners for creating positive change throughout communities working to prevent violence. The Sexual Violence in Disasters guide includes a suggested list of key community partners to connect with.
Partnerships and coalitions can help organizations access more resources and amplify voices. In the aftermath of a disaster, disaster response services are frequently accessible to and set up to serve those with the greatest privilege, further perpetuating the disparities faced by marginalized communities. Partnering with community organizations can make services more accessible and responsive, giving mainstream service providers the opportunity to work together with marginalized communities to best address their specific needs. There's a great section about prioritizing equity in coalitions, on how to build and promote an inclusive, transparent and equitable coalition that respects and honors what each member organization brings to the table and is accountable to the community. Some ideas are given for activities a community coalition can work on to increase community safety and prevent violence both before and after a disaster, including: conducting a community needs assessment related to sexual violence in disasters, training for disaster responders and service providers, building refferal pathways that can quickly be adapted in an emergency, creating and sharing inclusive disaster response and recovery plans, creating and distributing messages for the community about sexual violence and disasters, and advancing policies that prevent sexual violence and support survivors.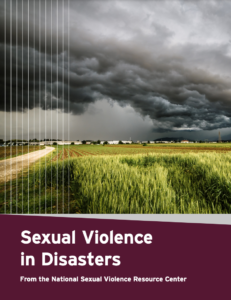 In August 2020, PreventConnect released a podcast featuring local prevention practitioners discussing how they had adapted prevention programs to meet their communities' needs during the COVID-19 pandemic and how they incorporated sexual and intimate partner violence prevention in their work with communities. PreventConnect's October 2021 web conference, Connecting With Community to Prevent Sexual & Intimate Partner Violence During Crisis: Lessons learned from Minnesota, featured preventionists discussing how viewing community connectedness as a protective factor against sexual and intimate partner violence enabled them to identify new partnerships during the COVID-19 pandemic. 
Change Together 
Strategies for long-term, sustainable prevention of not just sexual violence but all forms of violence, involve organizational change, focusing on accountability to survivors, accountability to BIPOC organizations, anti-oppression work within organizations, and trauma-informed organizational management and supervision. Ending sexual violence requires ending all forms of oppression. People who are multiply oppressed face high risks of victimization. Even within marginalized groups, there are those with less privilege, for example, prisoners, children, the elderly, and the disabled. It is doubly important that people in positions of power and authority recognize the unique needs and the particular vulnerability to disasters these communities face. Service providers, community members and government agencies, can all work together to prevent sexual violence both before, during, and after disasters by reducing risk factors, advancing equity and ending oppression, and strengthening community services and supports.
PreventConnect and NSVRC will host a web conference on January 27, 2022 to learn more about this updated resource and to hear directly from the communities featured in the guide.