Highlighting January Web Conferences: Conversations to start 2022
PreventConnect hosted four web conferences in January and all of them reached registration capacity shortly after they were announced. In the age of Zoom fatigue, this signals the importance of these conversations in sexual and intimate partner violence prevention spaces. Continue reading to learn about the January web conference topics and highlights from each one.
Holistic Approaches to Youth Wellbeing: Supporting Mental Health as a Strategy for Sexual and Intimate Partner Violence Prevention
Communities have always played an important role in shaping the mental wellbeing and safety of young people. This web conference featured guests from United Women of East Africa and Multnomah County schools who are prioritizing comprehensive youth wellbeing and supporting environments for youth empowerment. Fardosa Osman and Mohamed Musse, both Youth Coordinators for United Women of East Africa, shared about how the COVID-19 pandemic impacted the youth in their community and how community-based and culturally rooted programming create opportunities for building trust, promoting healing, and engaging in critical conversations. Mental & Behavioral Health Systems Strategist, Marcia Perez,  and Student Service Director, Denise Wright, shared about how the pandemic has impacted school environments in Multnomah County and how multi-sector partnerships have been critical in identifying solutions to support youth mental health and wellbeing.
We See You Sis: Centering Black Survivors in the Fight for Health Equity and Violence Prevention 
Candace Girod, Annika Leonard, Jacqueline Miller, and Tonjie Reese led a powerful discussion with over 400 PreventConnect guests on centering Black survivors in the fight for health equity and violence prevention. The panel shared personal stories about the
impact of anti-Blackness when seeking health care and support and provided examples of how health equity for Black women and interpersonal violence intersect. The National Resource Center on Domestic Violence and the National Sexual Violence Resource Center co-hosted this web conference with PreventConnect and highlighted their collaborative new resource, Back to Basics: Partnering with Survivors and Communities to Promote Health Equity at the Intersections of Sexual and Intimate Partner Violence.
Sexual Violence in Disasters: Implications for Prevention
The National Sexual Violence Resource Center (NSVRC) recently released an updated report on sexual violence in disasters that includes lessons learned from the COVID-19 pandemic and calls particular attention to the racial and social inequities that shape both disasters and sexual violence. Jennifer Grove and Mo Lewis of NSVRC joined PreventConnect to share about the creation of this resource that included partnering w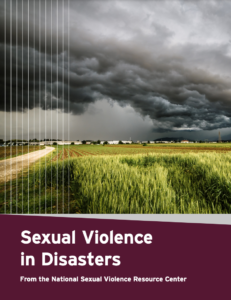 ith those working in and with the communities most impacted by disasters and sexual violence. Advisory group members for this report, Sevonna Brown of Black Women's Blueprint, Strong Oak Lefebvre of Visioning B.E.A.R. Circle Intertribal Coalition, and Mira Yusef of Monsoon Asians and Pacific Islanders in Solidarity & National Asians & Pacific Islanders Ending Sexual Violence joined the web conference to offer their perspectives, insights, and calls to action. Sevonna, Strong Oak, and Mira engaged in a rich discussion around the expansiveness of what "disaster" means to different communities, told stories about resilience, and made the connection that culture is prevention.
Building a Foundation for Sexual and Intimate Partner Violence Prevention
The professionalization of primary prevention is full of technical language, acronyms, and examples that do not always meet communities where they are. This web conference, intended for new preventionists, attempted to use metaphors, analogies, and stories to build a foundation for understanding and communicating about prevention.