New Downloadable Content: Health Equity Approaches to Prevention Resources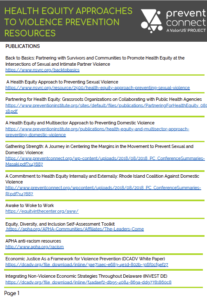 PreventConnect has released a resource guide of tools and resources to build knowledge, skills, and capacity for health equity approaches to sexual and intimate partner violence prevention. The collection includes links to publications, web conference recordings, blogs, podcasts, and videos from PreventConnect, the National Sexual Violence Resource Center, Prevention Institute, the National Resource Center on Domestic Violence, the American Public Health Association, and more. Many of the resources feature the work of CDC-funded RPE and DELTA Impact recipients, and stories and lessons from movement leaders, local organizers, and activists.
Download the resource guide here.