Top Podcasts of 2022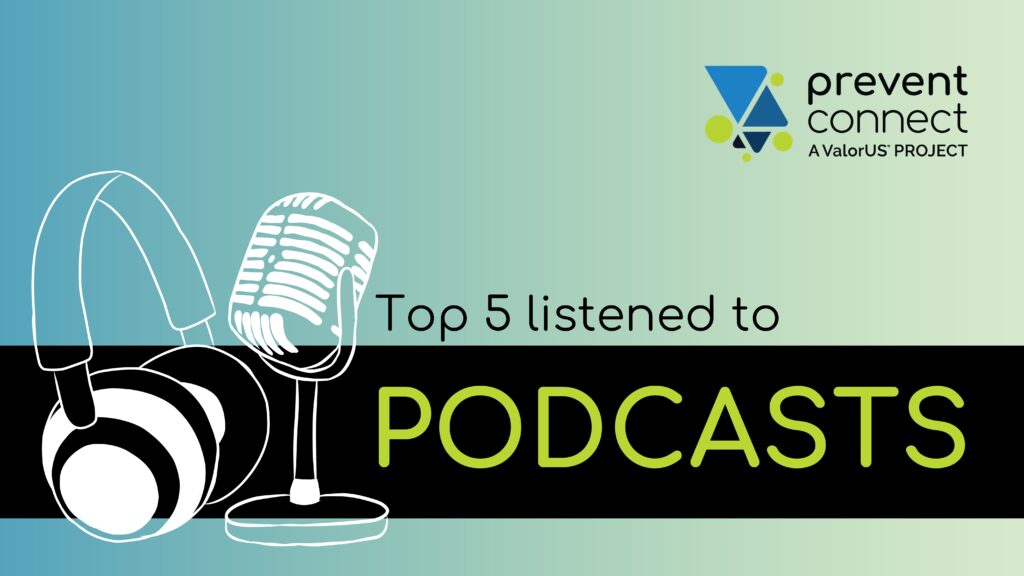 Here are the top five listened to PreventConnect Podcasts for 2022. Our team releases podcasts each month, available on our website and on every podcasting platforms. You can find a running list of our current episodes wherever you listen to podcasts, or at preventconnect.org.
Disability Justice and Primary Prevention Part 1 | Moving at the Speed of Trust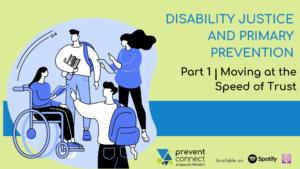 In this episode, PreventConnect sat down with Cierra Olivia Thomas-Williams, co-founder if Indiana Disability Justice, to talk about Disability Justice as a vehicle for change to achieve a world free of violence.
This is part of a two-part podcast series, explore the history of disability rights in the anti-violence movement, structural barriers to centering disability justice in non-profit organizations, resources for Practitioners and real-time examples of organizations bridging the gap and creating transformational change across the country. 
Listen to the full podcast here.
Listen to part 2 here. 
No Survivor Justice Without Racial Justice | Domestic Violence Awareness Month 2022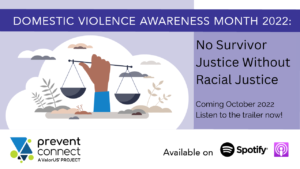 In this episode, PreventConnect sat down with two of the organizers for DVAM 2022 and beyond, Ivonne Ortiz and Nnenna Minimah, two fierce women of color who are leading the movement and their communities, to explore the theme for the National Domestic Violence Awareness Campaign: No Survivor Justice Without Racial Justice. They shared perspective on how communities of color have found joy through unrelenting resiliency, how they cultivate joy in their own lives and how organizations can get on board in uplifting joy and valuing their staff.
This podcast also features excerpts from the 2022 National Call for Unity from October. 
Listen to the full podcast here.
Prevention in Sport | Highlights from Game-Changing Research
In this episode, PreventConnect spoke with Tori VandeLinde of RALIANCE, researcher Anita Raj of Center on Gender Equity and Health – UC San Diego, and David Lee of VALOR to talk about their work on a special issue of the Journal of Interpersonal Violence, The Prevention of Sexual Violence in Sports: A Real Game Changer. They shared highlights from their research, tangible tools, and ideas practitioners can take and put into practice, as well as how sports can build momentum to widespread culture shifts that prevent sexual violence. 
Listen to the full podcast here.
Roadmap to Prevention | Connecting Critical Race Theory and Anti-Oppression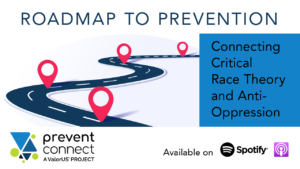 In this episode, PreventConnect  sat down with the authors of the School-Based Prevention Roadmap, Sarah Ferrato of the Ohio Alliance to End Sexual Violence and Monica Garcia Vega of the Florida Council Against Sexual Violence, to learn about how their organizations are responding to national pushback against Critical Race Theory and Social Emotional Learning. They explain the current national landscape, how it's impacting prevention practitioners and the resources they are putting out to help practitioners push forward.
Listen to the full podcast here. 
Health Equity Highlight Reel | Health Equity Approaches to Prevention
For this episode of PreventConnect, we combed through hours of web conferences and resource to find excerpts and examples of health equity in the field and hopefully tell a story on how to translate an academic term into real life practices and make a difference in the communities we serve. This episode explores the impacts Human Rights and Public Health Issues on the anti-violence field and offers resources from researchers, policymakers and practitioners as a path forward.
Listen to the full podcast here.