CDC's DELTA AHEAD Recipients Announced
CDC's Division of Violence Prevention has announced the 13 funding recipients for Domestic Violence Prevention Enhancement and Leadership Through Alliances (DELTA): Achieving Health Equity through Addressing Disparities (AHEAD). For over two decades, CDC has funded state-level domestic violence coalitions to facilitate primary prevention at the community level. DELTA AHEAD is the latest iteration of the DELTA Program and will expand on the accomplishments of previous programs by implementing intimate partner violence prevention strategies and approaches, with a greater focus on health equity, while funding local communities to do the same.
The following state-level coalitions will receive DELTA AHEAD funding: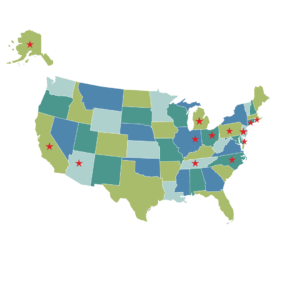 Alaska Network on Domestic Violence and Sexual Assault Inc.
Arizona Coalition to End Sexual and Domestic Violence
California Partnership to End Domestic Violence
Connecticut Coalition Against Domestic Violence Inc.
Delaware Coalition Against Domestic Violence
Indiana Coalition Against Domestic Violence Inc.
Michigan Coalition to End Domestic and Sexual Violence
New Jersey Coalition to End Domestic Violence
North Carolina Coalition Against Domestic Violence
Ohio Domestic Violence Network
Pennsylvania Coalition Against Domestic Violence
Rhode Island Coalition Against Domestic Violence
Tennessee Coalition to End Domestic and Sexual Violence
The National Resource Center on Domestic Violence's PreventIPV website has a collection of stories sharing the work of previous DELTA recipients. You can read the DELTA FOCUS stories here. For more information about the last DELTA project, DELTA Impact, click here.