Self-advocates create guidebook to support LGBTQ+ people with Intellectual and Developmental Disabilities
This blog was written in collaboration between VALOR staff, Janae Sargent and Priscilla Klassen.
Self-advocates with the Rainbow Support Groups of Massachusetts Advocates Standing Strong (MASS) have released a free guidebook to help people understand and better support LGBTQ+ people with Intellectual and Developmental Disabilities (IDD). The online guidebook centers lived experiences and perspectives of LGBTQ+ self-advocates and aims to give hope and inspiration to fellow community members as well as insight and knowledge to supporters. 
The Rainbow Guidebook originated with self-advocates Pauline Bosma, Fran Hladysz, and Nora Johnsen, and PhD student Oscar Hughes, while they were conducting research and interviews with LGBTQ+ folks with IDD across the U.S. After interviewing 23 LGBTQ+ adults with I/DD, the self-advocate team chose to turn their research into a guidebook, with Oscar assisting as part of a dissertation research project.  
The team met regularly to conduct and analyze the data Oscar collected during interviews. They discussed the common themes and chose to focus on struggles, positive support and sharing "their ideas of improving the lives of LGBTQ+ people with intellectual and developmental disabilities."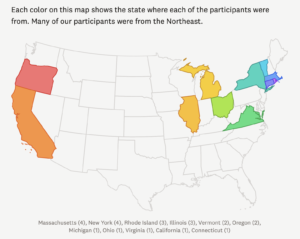 Researchers asked questions like:
What was it like for you coming out as an LGBTQ+ person?

Is there anyone in your life who accepts you? How do you know they accept you?

Is there anyone in your life who does not accept you? How do you know they do not accept you?

Is there anything that is hard about being an LGBTQ+ person with a disability? What is hard?

Do you go places to meet other LGBTQ+ people (online or in person)? Where do you meet other LGBTQ+ people? How do you feel there?
According to the National Longitudinal Study of Adolescent to Adult Health (Add Health), many youth with IDD have their first relationships at the same time as their peers without IDD. But even with similar relationship experiences and desires, youth with IDD are less likely to see themselves reflected in movies and television, less likely to learn about sexuality from their parents or healthcare providers, to receive healthy sexuality education (especially education that contains nuanced conversations about consent) and less likely to be included in peer-to-peer conversations. 
All of these factors, along with a long history of sexually suppressing people with disabilities, have contributed to society pushing people with IDD to the margins by not seeing them as sexual beings and ignoring their full human experience. That is especially true for LGBTQ+ people with I/DD, who are caught in the margins of two oppressive systems. 
Cross-sector advocates in disability justice, education, public health, medical and anti-violence sectors say that humanizing people with IDD, uplifting their stories and experiences and teaching comprehensive sexuality education that focuses on enthusiastic consent are some of the most powerful things we can do to create protective environments for people with I/DD.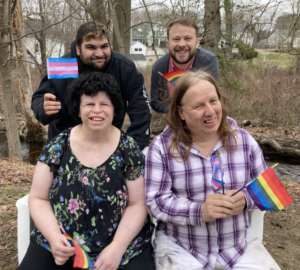 Our Lives, Our Choices, Our Rights! helps to fill this gap by centering first-person stories to equip family members, educators and service providers to understand the lives and experiences of LGBTQ+ people with IDD, in order to better support them and advocate for institutional change. 
The online guide features information about sexuality and gender, such as the definitions of commonly used terms and acronyms as well as more abstract concepts, like the difference between sex and gender. Many sections include helpful diagrams, illustrations, videos, and infographics. 
The guide also includes first-hand accounts of LGBTQ+ people with IDD and how these identities intersect with each other as well as their other identities. The denial of autonomy is a frequent theme in the lives of disabled people, and something that is often compounded when disclosing an LGBTQ+ identity.   
In addition to first-person narratives, the Rainbow Guidebook also shares a number of links and downloads for supporters and organizations as well as tools other self-advocates can implement in their own lives. Self-advocates also included a letter addressed to families and supporters reading the guidebook, where they wrote: 
"Your acceptance makes us stronger. Being an LGBTQ+ person with an intellectual or developmental disability is not always easy, but it is much easier for us to be happy and have a great life when we are loved and supported."
Our Lives, Our Choices, Our Rights! Goes beyond informing people about the lives and experiences of LGBTQ+ people with IDD. The writing and research teams were nearly entirely made up of self-advocates, who interviewed more than two dozen people about their full-experiences, in order to humanize a community that is rarely seen as full people with sexuality and desires. 
The guidebook can be accessed entirely online and features an integrated table of contents which makes it easy to navigate and send specific sections to others. 
For more information about the Rainbow Groups, go to https://www.wearemass.org/rainbow-group or email them at [email protected]
To request an online training, visit https://www.wearemass.org/trainings