15 tips for your best NSAC ever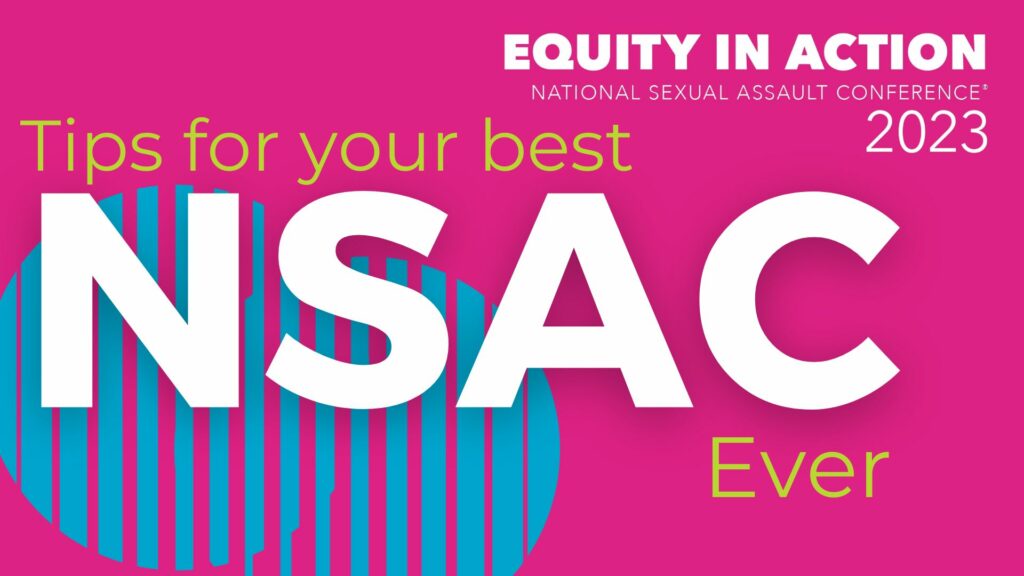 We are officially one week out from the National Sexual Assault Conference – in San Francisco, California! NSAC is the largest gathering of people working and advocating in the anti-violence field, bringing together more than 2,000 advocates, preventionists, activists and more, all dedicated to ending violence and advancing equity. 
This will be the first in-person NSAC since 2019. If you're like me and feel a little rusty on your in-person conference game, here are some of our staff's favorite tips and tricks to make sure you get the most out of NSAC.
1. Do your research ahead of time
There are 112 sessions in multiple tracks, all happening at the same time across a four-day period. Add in plenaries and after-hours events like The Recall screening, and it's a lot. Take some time to explore the NSAC Agenda At-a-Glance before you arrive, to get an idea for what your top priorities are. More than one session you're interested in, happening at the same time? Make a plan with a friend or colleague to split up and share back what you learned with each other. 
This is also a great time to look at hotel information and maps, FAQ's and information about nearby restaurants and activities. Conferences can feel hectic when everyone is there all at once, so make the most of the time you have now to get acquainted with the space.
2. Exercise your inner-extrovert
NSAC is a unique gathering place for activists, advocates and movement leaders from across the country, and an opportunity to expand your network and connect with people you may not ever have the chance to meet in person otherwise. Practice getting out of your comfort zone and meeting people for coffee or dinner, or reach out to colleagues you have met on zoom to meet in person.
If you're on the introverted side, set a goal to meet at least one new person that's in your sector of the field to follow-up with after NSAC.
3. Branch Out
While NSAC is a great place to build your foundational knowledge about sexual violence prevention, it's also an opportunity to stretch your professional self and learn something new. With tracks like our sex worker track, reproductive justice track and alternative justice track, there are so many opportunities to connect with activists from cross-cutting movements and bring their stories and expertise back to your prevention work. 
This also goes for branching out from the people you're at NSAC with. Rather than attend every session together, make a plan and split up. Give yourself space to meet new people and meet back up with your friends at lunch. 
4. Take notes and reflect
With so much happening all at once, it's totally understandable if sessions start to blur together by the end of the week. Bring a notebook and take notes on what stands out to you, write questions and jot down inspiration you're feeling about your own role in the movement. After NSAC is over and you are back in your hometown, set dedicated time aside to re-read your notes and reflect back on the conference, to make sure you're taking what you learned with you. 
5. Bring Business Cards
Remember business cards? Yeah, me either. Now is a good time to dust off that box of business cards that has been lying under your desk and bring a few (dozen) to San Francisco! You're going to meet so many people and sometimes those interactions will be really short, so make sure you have something to give out to continue the connection after NSAC. 
6. Wear comfortable shoes, and layers
While a summer in California is usually a sunny summer dream, San Francisco has a mind of her own. Being on the bay, some days might be a sunny 70 degrees and others might bring a visit from Karl, the Bay Area's perennial fog.
On the note of being comfortable, consider how much you may be moving/ walking/ standing and wear shoes that can keep you going all day. 
Pro tip from a local: Download the Karl Weather app before you visit for live updates on where the fog is throughout the city on the days you're here.
6.5 Break out the cool 'fit
Have a suit that's been sitting in the back of your closet since that one day you went online shopping during lockdown? Pack it! NSAC is a time to wear what makes you feel comfortable, confident and fun. There are no wardrobe requirements for NSAC. Come as you are and know that you are valid and a field expert, whether you are most comfortable in jeans or pokadot jumpsuit. We love to see it. 
7. Be present
If an email, text or call can wait, let it wait. There is so much going on at NSAC, it's important to be in the moment and soak everything in, to allow ourselves space to learn, digest and apply the conversations we are a part of. If you can, set an out-of-office response on your email and calendar. Remember that it's okay to be less responsive, you're still doing your job if you aren't on your email (as hard as that can be to remember.)
8. Take care of yourself
Some of the topics at NSAC can be triggering or have heavy focuses. It's okay to stand up, stretch, get some water and take a break. NSAC staff will be in every session. If you're feeling uncomfortable or need to talk to someone, tap the staff person nearest to you for assistance. 
This also means dedicating time to recharging at the end of each day. Think about what you need to recharge your social battery. Whether that's a morning or evening walk, a power nap or some solo time at the end of the day to tune out and watch some tv or read a book, prioritize self-care. 
9. Pack snacks and water
On the note of self-care, listen to your body and nourish yourself. If you're someone who gets hungry in between breakfast and lunch (I am right there with you), pack some snacks to take throughout the day and keep a bottle of water on hand. Conference days can be LONG. Make sure you are recharging so you have the energy to be present for it all. 
10. Enjoy San Francisco!
We know you're excited the conference and we are located in one of the most fun cities in the U.S. and want you to take advantage of it! Check out what is happening in San Francisco during the week you're in town, make a list of some spots you want to check out and make a plan to go be a tourist. Consider even inviting someone else from the conference to go with you. 
Pro tip: There will be an after-hours walking tour of Cameron House Tuesday Night. This could be a great chance to ground your work in San Francisco, learn something new about the history of the anti-violence movement and see some of the city. 
11. Take advantage of the hotel
While there are endless fun things to do in San Francisco, the Hilton is also stocked with some great perks, like a gym, a sky lounge and an outdoor pool. Check out the amenities page before you travel and see what the hotel has to offer, especially if that impacts how you pack.
Who knows, you may end up seeing some of the VALOR stuff at the pool one day.
12. Double… and triple check your packing list
Few things are more annoying than getting to a destination you'll be at for several days and forgetting your charger. Double check what you'll need for the week and make sure you are prepared. Not sure what you should bring? Ask a colleague! Chances are, they are wondering the same thing. We loved a shared packing list. 
13. Bring a fidget toy
If you're someone who has a hard time sitting still all day (you're not alone, we see you), pack something that you can use to keep your hands busy that isn't your phone.
14. Think about what Equity in Action means to you 
Staff and volunteers have been preparing for NSAC for months, and we have all been really intentional about the voices we want to uplift and the national tone we want to set at NSAC. All of our sessions are meant to go deeper than sexual violence 101 and explore how we can all push the envelope to make our movement more equitable, more anti-racist and more community-centered. Think about our theme Equity in Action, how it relates to the voices you hear at NSAC and how you can take it back to start new conversations in your local community or at your organization. 
15. HAVE FUN! And show us all the fun you're having by using our hashtags
This is the first in-person National Sexual Assault Conference since 2020. That can be intimidating, and it's totally okay if you're nervous. Remember that lots of other people are also probably nervous. More than anything, NSAC is a time for you to learn and be surrounded by things and people that light your passion for the work you do. While, yes, this is our work, it is also our lives. Everyone at NSAC is there because we care about creating the conditions for a better world tomorrow. Most of us are nerds. A lot of us are dorky. And we will probably all be a little bit awkward as we dust off the in-person skills. Go easy on yourself and enjoy the process. We are happy you're here!
We love to see your stories and want to know how NSAC is going for you, whether that's in a plenary, at a session or at the hole-in-the-wall coffee shop down the street. Hashtag #NSAC2023 and #EquityInAction to show us how you're making the most of NSAC!