Heal, Hold & Center: October is Domestic Violence Awareness Month
The National Resource Center on Domestic Violence (NRCDV) and Domestic Violence Awareness Project (DVAP) will usher in Domestic Violence Awareness Month (DVAM) this Friday, September 29th with their National Call for Unity. This year's call will feature speakers exploring "what it means to find justice, healing, nurturance, and leadership for survivors of domestic violence." NRCDV's theme for DVAM 2023 continues to build on the key message that there is no survivor justice without racial justice and asks advocates, preventionists, and communities to "Heal, Hold & Center survivors, especially those navigating anti-Blackness and other systems of oppression, throughout DVAM and beyond."
This year's theme of Heal, Hold & Center provides action-oriented ways to practice racial and survivor justice.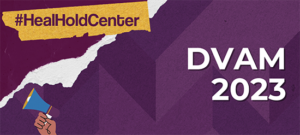 The theme calls on practitioners to:
Embrace the varying ways different cultures HEAL from violence and oppression. This is essential for fostering environments where survivors are included, respected, and supported.
HOLD space for survivors by deeply listening, practicing unconditional and non-judgmental support, and allowing survivors to harness their own power and lived experiences.
CENTER the most marginalized and those with the highest burden of violence. Marginalized survivors often face barriers in having their voices heard and their experiences validated which is re-traumatizing and contributes to a system of violence. To disrupt violence, we must continuously listen and learn from those most impacted and follow their lead in identifying solutions.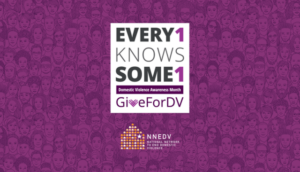 In addition to NRCDV's DVAM theme, resources, and events, the National Network to End Domestic Violence (NNEDV) will recognize DVAM through the #Every1KnowsSome1 messaging campaign.  Organizations can register to participate in NNEDV's campaign here. The National Coalition Against Domestic Violence (NCADV) will also host the 2023 National Conference on Domestic Violence October 22-25 in Washington, D.C. The theme of the 2023 conference is Every Survivor. Every Voice. Building Power Together. 
Domestic violence is not inevitable. It is not something that families, communities, and society should have to accept as a part of life. With increased attention on domestic violence during October, prevention practitioners will likely find new opportunities to share about prevention. How will you incorporate #HealHoldCenter in the stories you tell about prevention?